Thursday 20th May 2021
Served with love at The Clyde Kitchen
Specialising in hearty home-cooked meals and delicious home-baking, The Clyde Kitchen, our on-site café at Strathclyde House, Skelmorlie, has now re-opened
Being able to eat out again is a pleasure that many of us have been able to savour as lockdown has eased. Those living at Strathclyde House, our independent living scheme in Skelmorlie, Scotland, now have the advantage of The Clyde Kitchen open for business right on their doorstep.

The café, which is also open to the general public, reopened its doors on 26th April in line with the Scottish roadmap for the lifting of lockdown. The reopening marks a new chapter in the life of The Clyde Kitchen. Management of the café is now under Pilgrims' Friend Society, with Ursula McAuslan taking up the reins as Café Manager.

"This is an amazing venue, looking after the needs of the residents and those in the surrounding area and I am delighted to be in charge," says Ursula. "Our vision for The Clyde Kitchen is that of a community café, where we don't have customers – we have friends dropping in for something to eat. We have a fantastic new team who are helping to put this little gem on the map for food and a friendly welcome."
On display in the café are beautiful artworks by local artists, photographers and crafters, which are also for sale.

The café prides itself on its home-cooking, with fresh produce (vegetables, fish, meat, eggs etc) sourced, where possible, from local suppliers. "If it can be homemade it is," says Ursula.

The menu features a selection of comforting café fare, from toasties, paninis and hot filled rolls to fluffy jacket potatoes and a steaming soup of the day, served with homemade bread. On Saturdays there's a special dish of the day – think homemade quiche, spag bol or Chinese chicken curry. Newly launched is the Sunday Roast, now serving every week. The team listen to feedback from regulars, adapting the menu to accommodate popular choices.
The Clyde Kitchen is also fast gaining a reputation for its excellent selection of homemade cakes and scones baked fresh each morning by the in-house team of talented bakers. Discovering what's sitting beneath the glass domes or inside the cake cabinet is part of the excitement. One day you might find Marie's trademark chocolate cake, crested with frosting flourishes and chocolate pieces – every chocoholic's dream. Another day you might happen upon a mouth-watering lemon sponge lovingly made by Kimmie. For their scone selection, the team enjoy experimenting – you might find cherry and date, chocolate, apricot, sultana, and cheese.
Whatever takes your fancy, you'll be able to enjoy a dining experience with a spectacular view over the gently lapping (or potentially wind-whipped) waters of the Clyde, either through the café's wide patio windows, or directly from the terrace itself.
Linda Fox is one Strathclyde House resident who has been enjoying the new café. "Since the café has opened there's been a real 'buzz' around," she says. "With excellent food, friendly service and amazing views, it's a great space to invite friends and enjoy time with fellow residents. It's so lovely to have fellowship again over a coffee and cake or lazy lunch, and in such beautiful surroundings. We're very grateful to the whole team for their hard work and I'm very much praying for this new adventure."

The Clyde Kitchen is open daily from 9am-4pm, except on occasion when it is closed for private functions.
Sunday Roast is served 12.30pm-2pm each Sunday. Book your table to avoid disappointment!
Tel: 01475 601434 or see Facebook for further details
Find out more about life at Strathclyde House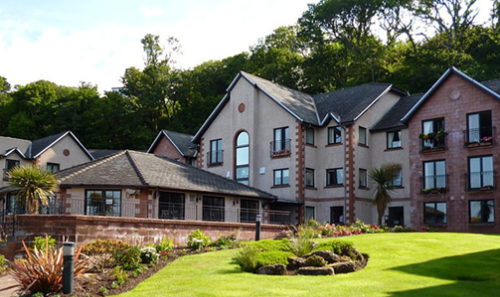 Strathclyde House
Strathclyde House is an independent living housing scheme set in beautiful, landscaped gardens with large terraces that look directly across the Firth of Clyde to the islands of Bute and Arran.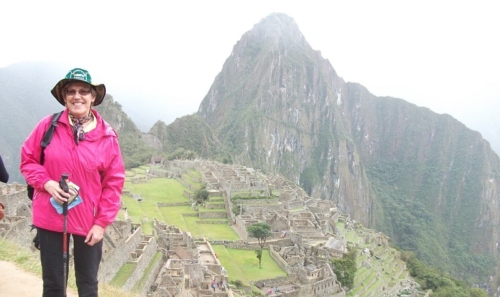 From Bangor to Skelmorlie, via Arequipa
For former music teacher Linda, a move to Strathclyde House is just the latest in a series of post-retirement adventures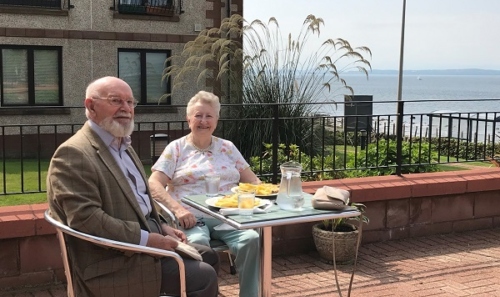 Planes, parades and polo
After a lifetime of equine adventures, for Glasgow-born Bob, moving to Strathclyde House felt like coming home