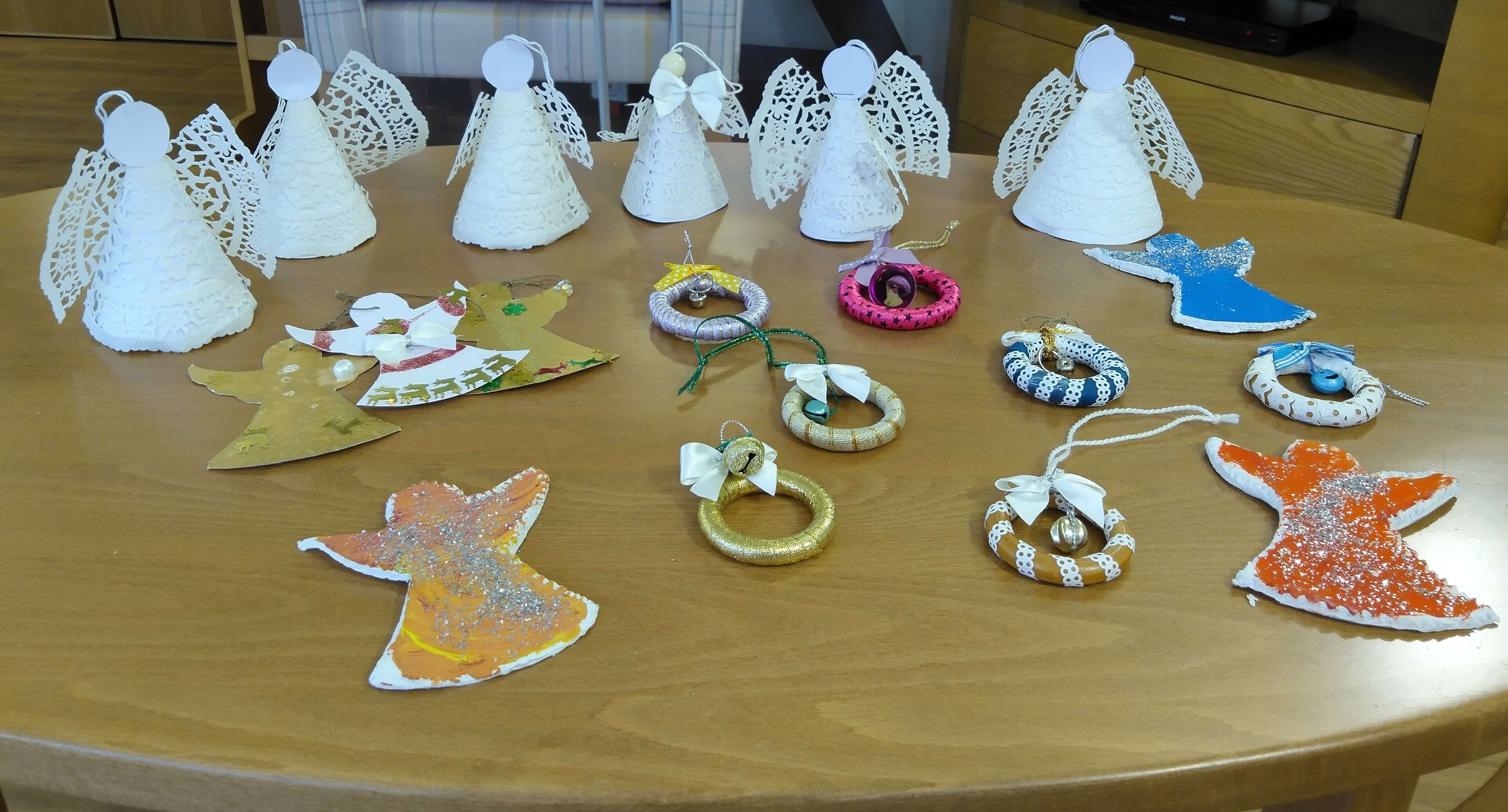 Friday 15th January 2021
Finborough Court gets ready for the Stowmarket Christmas Tree Festival
Crafting decorations for the Festival is a fun festive activity enjoyed by all
Each year, family members living at Finborough Court, our home in Suffolk, get busy making Christmas decorations. These are then taken to St Peter and St Mary's Church, Stowmarket, the local parish church, where they are put on a special Finborough Court Christmas tree as part of the annual Stowmarket Christmas Tree Festival.
Now in its 16th year, the Festival has become a highlight of the Christmas calendar in Stowmarket, with local groups and organisations decorating Christmas trees in the church and all around the town. Last year, over 400 trees were decorated and the Festival was visited by 22,000 people. The Festival will run this year from 17th December until 2ndJanuary. (For guidance on visiting the Festival, see here).
Each year, a different theme is chosen by the church and for 2020, the theme is The Nativity. Participants are asked to create a tree that reflects this, perhaps taking inspiration from a traditional carol or a poem.

Our family members at Finborough Court are creating a 'Ding Dong Merrily On High' Christmas tree, crafting bells and angels. Chris Rowe, Activities Coordinator, at the home, says, "We always invite our family members to choose the theme for our tree. It is a lovely way for them to be able to express their Christian faith, and everyone loves crafting the decorations together."
Through crafting, family members experience the sense of satisfaction that comes from creating. "One family member told me that she likes to watch me showing them the craft and then realising that she can do it too!" says Chris. "It brings us all together, and it's also a great way to connect with our local community."

As well as crafting their decorations, family members will be enjoying a host of activities to celebrate the festive season. These will include making Christmas cards and baking the Christmas cake. Peeling the vegetables ready for Christmas Day is a longstanding tradition at Finborough Court, with family members and staff alike take part together on Christmas Eve.

"This year especially, when so many living with us have experienced separation from loved ones, we've felt the blessing of being able to be family to each other and are looking forward to celebrating Christmas together," says Chris.

Some of those living with us have been sharing their memories of Christmas past. Read Christmas Memories from Barbara and Jean