Koinonia Christian Care Home, Worthing
Residential and respite care
For practising Christians
Koinonia Christian Care Home is a 39-bed home in Worthing which joined the Pilgrims' Friend Society family on 1st April 2022.
The home is spread out over five interlinked houses. The fifth house, Gwynne House, specialises in the care of residents with dementia. The majority of rooms have lift access and all rooms are en-suite (toilet and washbasin). All rooms are single and furnished but residents can bring some of their own furniture if they wish. Residents can provide their own television and there is an aerial point in each room. External telephone lines can be connected at resident's own cost and there is free wifi throughout the home.
There are four lounges across the five houses. The main lounge (a sun lounge attached to the dining area) and the front lounge are the areas most used by residents. There is a small private lounge area which is often used for visiting, quiet times and prayer meetings, and a fourth lounge in Gwynne House which is mainly used by the residents of Gwynne House. Each lounge has access to a large screen television.
There is a communal garden which the residents are welcome to enjoy when weather permits.
An Activities Co-ordinator works two full days a week and leads activities such as craft, games, singing, music, and quizzes. Films are organised, and occasionally outside visitors join the activities. The Co-ordinator also connects with residents on a one-to-one, sometimes taking them out to the park (when weather allows!).
Dietary requirements of residents are respected; the Kitchen staff cater for particular diets/needs. Food is home-cooked, with an emphasis on healthy and wholesome eating!
There is currently no guest room facility at Koinonia. There are plenty of hotels and guest houses locally, including a Premier Inn on the seafront which is a 10 minute walk from the home.
Assisted bathrooms
Sunday services
Activities
Devotions
Snacks and drinks
Hymns and songs
24 hour care
Caring and highly trained staff
There is a Registered Manager who leads the Home, supported by a Clinical Facilitator and an Administrator. The Pilgrims' Friend Society Support Team, including Finance, HR, and Communications, work with the team at the home.
When a full home, during the daytime there would generally be two Seniors and seven Care Assistants in the morning, with six in the afternoon/evening on duty across the home, supported by the Manager (weekdays) and Clinical Facilitator (weekdays and weekends). Overnight, the home is covered by three Night Care Assistants. Staff are deployed to ensure cover of all areas, and there is automatic monitoring with a Nurse Call System throughout.
Alongside the Care staff, there is a strong ancillary team of staff including Housekeepers, Cooks and Kitchen Assistants, and two Maintenance Officers who support the Manager with the care of the building and outside areas.

The last CQC inspection was in March 2020 and following the inspection the home was rated as Good in the areas of Safe and Effective and rated as Requiring Improvement in the areas of Caring, Responsive and Well-Led. Overall the rating was Requires Improvement.

Work is in progress to improve the home's rating and to ensure that the residents receive the best care possible. CQC carried out an inspection on 24 March 2022, and we are awaiting the report.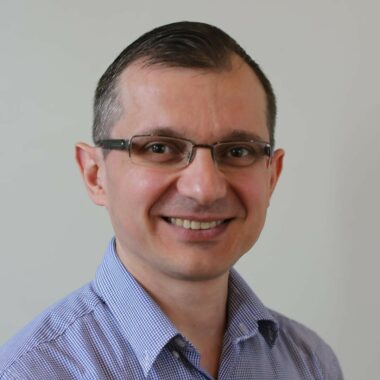 John Manea
Registered Care Manager
John Manea has been Registered Care Manager at Koinonia since November 2021, having joined the home in 2016 as Deputy Manager. He has been in the care industry for the last 14 years and is passionate about people living fulfilled lives.

John became a Christian in his teens at the witnessing of one of his best friends who had just given his life to the Lord. He is married and has two young girls. He and his family worship with the Lancing Tabernacle Church, and are involved in the life of the church by supporting different areas of ministry.
Jasmine Wren-Dunstone
Business Manager
Jasmine has a background in Project Management within engineering and the construction industry. She has over half a decade's worth of experience in managing people and leading projects. She holds an Institution of Occupational Safety and Health (IOSH) qualification in managing a Site Supervision Safety Training Scheme (SSSTS) and is passionate about the safety of others.
Jasmine grew up within a Christian household and attends her local church which holds a special place in her heart as her grandparents were married there.
In her spare time Jasmine enjoys baking and painting with her daughter and husband as well as going for walks along the seaside.
Anne Richards
Administrator
Anne had been working first as a secretary and then an administrator for the same company in the private sector for over 20 years, when she had a calling to work within the local community/charity sector. She says, "God's timing never ceases to amaze me, as this was when the vacancy for an Administrator here at Koinonia arose." Anne joined the family in August 2012.
Outside of work Anne likes to spend time at home with her husband and their dog, recently adopted from a local rescue centre. She also enjoys swimming and making cards and has just taken up creative writing.
Contact & Location
Address:
Koinoina Christian Care Home
4 Winchester Road,
Worthing,
West Sussex,
BN11 4DJ
Email:
koinonia@pilgrimsfriend.org.uk
Tel:
How to find us
We are a few minutes walk from Worthing train station and just off the A24.