Koinonia Christian Care Home, Worthing
Christian care home in Worthing
Residential and respite care
For those sympathetic to the Christian faith
Koinonia Christian Care Home is a 37-bed home in Worthing which joined the Pilgrims' Friend Society family on 1st April 2022.
The home is spread out over five interlinked houses. The fifth house, Gwynne House, specialises in the care of residents with dementia. The majority of rooms have lift access and all rooms are en-suite (toilet and washbasin). All rooms are single and furnished but residents can bring some of their own furniture if they wish. Residents can provide their own television and there is an aerial point in each room. External telephone lines can be connected at resident's own cost and there is free wifi throughout the home.
There are four lounges across the five houses. The main lounge (a sun lounge attached to the dining area) and the front lounge are the areas most used by residents. There is a small private lounge area which is often used for visiting, quiet times and prayer meetings, and a fourth lounge in Gwynne House which is mainly used by the residents of Gwynne House. Each lounge has access to a large screen television.
There is a communal garden which the residents are welcome to enjoy when weather permits.
An Activities and Community Engagement Facilitator leads our volunteer team to deliver activities such as craft, games, singing, music, and quizzes. Our ACE Facilitator also connects with the wider community.
Dietary requirements of residents are respected; the Kitchen staff cater for particular diets/needs. Food is home-cooked, with an emphasis on healthy and wholesome eating!
There is currently no guest room facility at Koinonia. There are plenty of hotels and guest houses locally, including a Premier Inn on the seafront which is a 10 minute walk from the home.
Assisted bathrooms
Sunday services
Activities
Devotions
Snacks and drinks
Hymns and songs
24 hour care
Caring and highly trained staff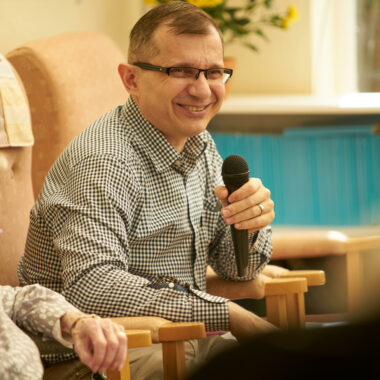 John Manea
Registered Care Manager
John Manea has been Registered Care Manager at Koinonia since November 2021, having joined the home in 2016 as Deputy Manager. He has been in the care industry for the last 14 years and is passionate about people living fulfilled lives.

John became a Christian in his teens at the witnessing of one of his best friends who had just given his life to the Lord. He is married and has two young girls. He and his family worship with the Lancing Tabernacle Church, and are involved in the life of the church by supporting different areas of ministry.
Nathan Page
Business Manager, Koinonia Christian Care Home
Nathan joined Koinonia in June 2023 as the our Business Manager. He lives in Yapton with his wife and two children and spent the previous five years working for a domiciliary care provider in Chichester.
He attends Saint Wilfrid Church in Bognor Regis and is part of the leadership team for the men's ministry. Nathan is also a Trustee for two charities. Outside of work he enjoys going to the gym, kayaking and cycling.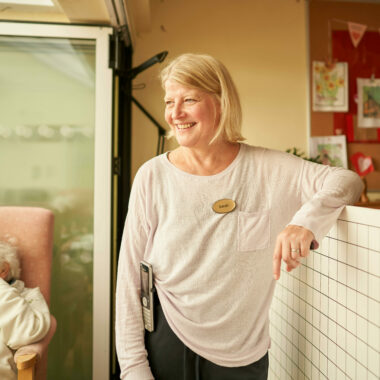 Sarah Whelan-McCrea
Activities and Community Engagement (ACE) Facilitator
Sarah joined Koinonia in November 2022 as a Hummingbird and in March 2023 she started her new role as Activities and Community Engagement Facilitator. Sarah has always been a Christian and has undertaken many different roles in her church life, from junior church to fundraising and organising events.

She enjoys working and spending time with the family members in Koinonia and working with local churches and engaging with the local community to enhance the spiritual, mental and physical wellbeing of the Koinonia family.

In her spare time Sarah enjoys spending time with her family and visiting antiques and vintage fairs.
There is a Registered Manager who leads the Home, supported by a Clinical Facilitator and an Administrator. The Pilgrims' Friend Society Support Team, including Finance, HR, and Communications, work with the team at the home.
When a full home, during the daytime there would generally be two Seniors and seven Care Assistants in the morning, with six in the afternoon/evening on duty across the home, supported by the Manager (weekdays) and Clinical Facilitator (weekdays and weekends). Overnight, the home is covered by three Night Care Assistants. Staff are deployed to ensure cover of all areas, and there is automatic monitoring with a Nurse Call System throughout.
Alongside the Care staff, there is a strong ancillary team of staff including Housekeepers, Cooks and Kitchen Assistants, and two Maintenance Officers who support the Manager with the care of the building and outside areas.

The Way We Care at Koinonia
At Pilgrims' Friend Society, our approach to care, The Way We Care, underpins life in our homes, helping us to create communities where older people can flourish.

At the heart of The Way We Care is our commitment to making sure we know each person really well so we can care for them in the way that's best for them. When someone comes to live at Koinonia, a senior member of the care team will discuss their needs with them and create an individual Care Plan which covers everything from their history to their social interests, personal relationships, hobbies, and emotional, spiritual and cultural needs. We call those who live with us 'family members' reflecting our commitment to creating places where those who choose to live with us feel truly at home.

We support those who live with us to remain as independent as possible but our care team provide support with activities such as bathing, dressing and mealtimes for those who need it.

As part of The Way We Care, we build communities where those who live with us can live an active spiritual and social life. Bible study groups meet regularly, and we have main devotions in the lounge which are led by local ministers and staff. We also provide support for personal devotion and prayer.

Koinonia became part of Pilgrims' Friend Society in April 2022 and since then we have been working very hard with our staff to improve the Requires Improvement rating that the home had prior to this.
We were inspected in June 2023 and have improved as we now have three Good and two Requires Improvement areas. There were no breaches of regulations and the advice given for improvement from the CQC were either completed during the inspection or actions put in place to address these following the inspection day.
Work to improve our rating
We are continuing to work hard to improve our rating and to recruit great staff to be part of our team.
We appointed a Business Manager in June 2023 who works alongside the Care Manager on the action plan we have in place. This work includes reviewing and improving the modified diets and dining experience and overseeing the refurbishment of the dining room and sun lounge. They also spend time auditing their areas of responsibility and ensuring the homes overall action plan is monitored and updated.
Since June 2022 we have also created other new roles including two Hummingbirds (supporting those living with dementia), an Activities and Community Engagement Facilitator, and a Catering Manager. We are also recruiting a Care Facilitator. All staff have robust induction plans and clear training and development plans, and we have an in-house Moving and Handling trainer with a RoSPA-recognised qualification.

The Care Manager and senior care team are working on the residents' electronic care plans which focus on their needs, choices, and goals, including risk assessments and best interest decisions.
We have introduced the Pilgrims' Friend Society bespoke approach to care, The Way We Care, which all staff have now been trained in and we are recruiting a The Way We Care Lead to oversee this work. We have a Dignity Lead who is also a Dignity Champion with Dignity In Care, and an Infection Control Champion.
You can find out more about our fees by clicking the "Download fees" button above.
How to find us
We are a few minutes walk from Worthing train station and just off the A24.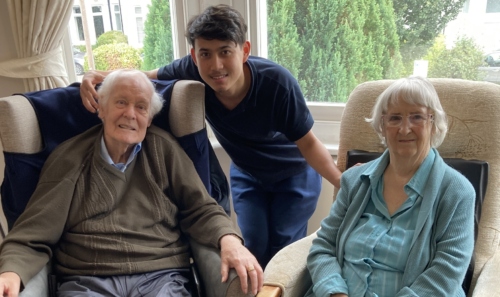 In his later years, Bill began writing a series of Bible study materials that have been a blessing to others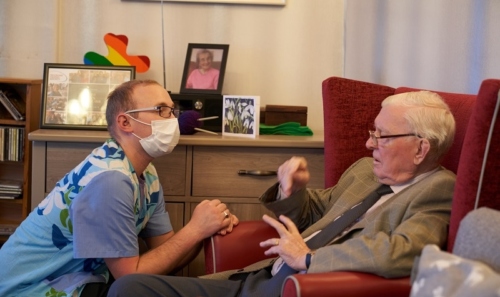 Our unique approach to ensuring that older people have all that they need to flourish in their later years