Framland, Wantage
Christian care home in Oxfordshire
Residential and respite care
For those sympathetic to the Christian faith
About Framland in Wantage, Oxfordshire
Framland is a 21-bed residential care home in Wantage. We offer residential care for older people, including for those who are living with dementia and those with learning disabilities. We can provide respite care to those who need it and we are able to offer care at the end of life.
Framland has nine rooms with en-suite bathrooms, one walk-in shower room and one assisted bathroom. All rooms are fully furnished, with aerial and satellite TV and telephone access points. We believe it is important that residents enjoy a feeling of homeliness, so each resident is encouraged to personalise their room with their own belongings.
The spacious lounge/dining room is on the ground floor, and there are three other small sitting rooms. There is an assisted bathroom and one walk-in shower room. The garden has a woodland path, which has been designed for texture, smell and visual stimulation. A passenger lift is available to provide access to the first floor.
There are garden tables to sit out at and lots of shade, including arbors and an awning. The people living here are encouraged to take a daily walk around the circular pathway. The garden is large and secure and this enables us to keep the people living here safe. We have lots of outdoor activities ranging from hoopla to having afternoon teas.
Want to find out more? Please fill in the Request a call back form and one of our team will be in touch. You can also submit your details to download a brochure.
24 hour care
Home cooked meals
Hymns and songs
Hairdresser
Secure gardens
Snacks and drinks
Devotions
Sunday services
Activities
Ensuite bathrooms
Assisted bathrooms
Caring and highly trained staff
The Care Manager, who is registered by the Care Quality Commission, is responsible for the dedicated team of over 40 staff members.
Typically, Framland has four carers and a senior carer on shift in the day, and three carers and a senior carer on shift in the evening. During the day, there is also a Hummingbird on shift who supports those living with dementia by offering company and support, often reading with the residents, singing with them and praying
with them. There are two carers on shift overnight, and up to five at weekends with two overnight.
We also have an Activities and Community Engagement Facilitator, a Maintenance Officer and Catering Manager/Cook and Housekeepers who work in different parts of the home – one in the kitchen, a team of two carrying out cleaning throughout the home. Our night staff provide a laundry so that the team can ensure that the home is always clean and well-presented and that those who live with us have a well-laundered wardrobe.
We are supported by a central team consisting of Operations, Property Services, Finance, Marketing and Communications, and Human Resources.

The Way We Care at Framland
At Pilgrims' Friend Society, our approach to care, The Way We Care, underpins life in our homes, helping us to create communities where older people can flourish.

At the heart of The Way We Care is our commitment to making sure we know each person really well so we can care for them in the way that's best for them. When someone comes to live at Framland, a senior member of the care team will discuss their needs with them and create an individual Care Plan which covers everything from their history to their social interests, personal relationships, hobbies, and emotional, spiritual and cultural needs. We call those who live with us 'family members' reflecting our commitment to creating places where those who choose to live with us feel truly at home.

We support those who live with us to remain as independent as possible but our care team provide support with activities such as bathing, dressing and mealtimes for those who need it. We focus on seeing the individual person first before seeing any form of illness or disability. This is especially relevant when caring for those living with a form of dementia.

As part of The Way We Care, we build communities where those who live with us can enjoy an active spiritual and social life. Bible study groups meet regularly, and we have main devotions in the lounge which are led by local ministers and staff. We also provide support for personal devotion and prayer. We have a regular prayer meeting once a week where people can pray for each other.


Our Activities & Community Engagement (ACE) Facilitator oversees activities, planned together with our family members. Activities include singing, flower arranging, armchair exercises, coffee mornings and crafts. These are supported by a team of volunteers. Trips out, as well as involving local schools in craft activities, life histories and singing keeps those who live with us in touch with their local community.

We meet regularly with those who live with us to talk about the activities and social life of the home, and their views are sought on every aspect of life in the home as part of our Quality Assurance system.
Visit our Facebook page to see what's been going on at Framland recently.
Find out more from those working with us at Framland...
Maintenance Officer - Dave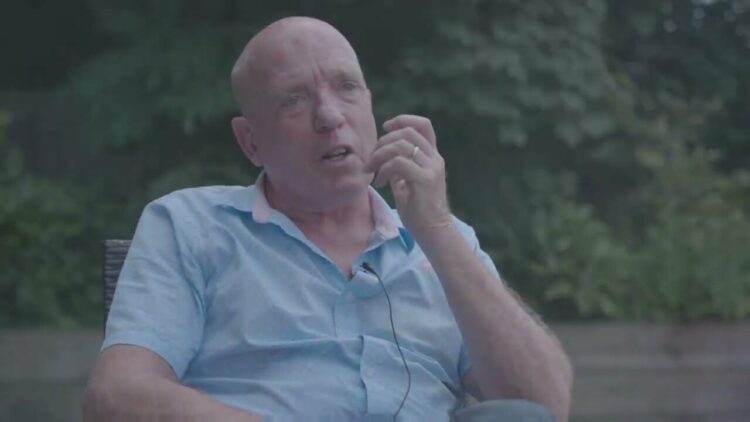 Dave, Maintenance Officer at Framland in Wantage, shares why his role is more than just a job.
The Way We Care Lead - Nicole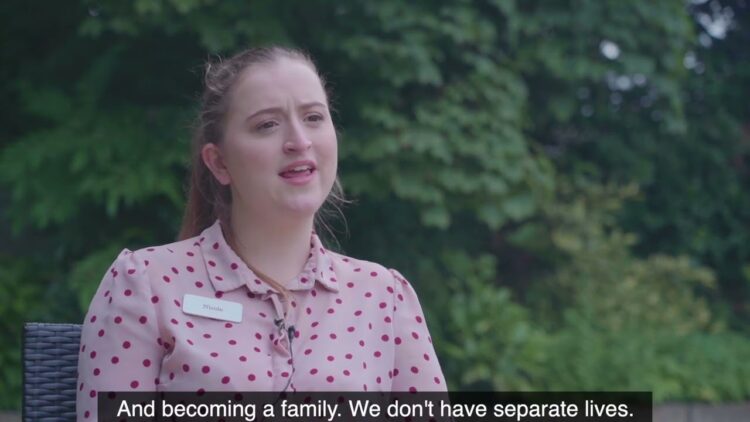 Nicole, our The Way We Care Lead at Framland, shares how we care for each person who lives with us an individual.
PumDim Skinner
Registered Care Manager (interim)
PumDim is the Interim manager at Framland. PumDim joined the team in November 2006 as a care assistant and promoted to a senior carer role after a year and then promoted to be the care team leader/ deputy manager. Before coming to England, she worked for Leipi Baptist Church as assistant pastor, the ministry PumDim led was an orphanage home and Nursery school. PumDim lives in East Challow with her son and Husband who give her joy and support her with her work! PumDim enjoys working at Framland because of the challenges and the difference to the life of our residences. PumDim likes that she is a part of making their later life fulfilled by giving them person centred care, providing them with a choice of activities, and fulfilling their spiritual needs with daily devotions and services, She builds friendships with all our residences, and she sees it as a privilege to see their smile and listen to their wealth experience and their life story.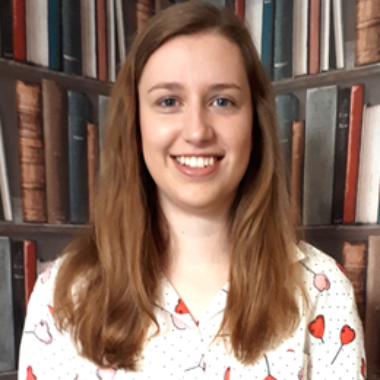 Miriam Fisher
Administrator
Miriam became a committed Christian as a teenager and has subsequently served her local church, including working as an administrator for a church in Cardiff.
Since moving into the area she has supported the work of Framland and attended their special events, including playing the cello for their Christmas services and at the annual garden party. She feels that God led her to the role at Framland at just the right time, and looks forward to helping to provide a caring and compassionate home for older Christians here.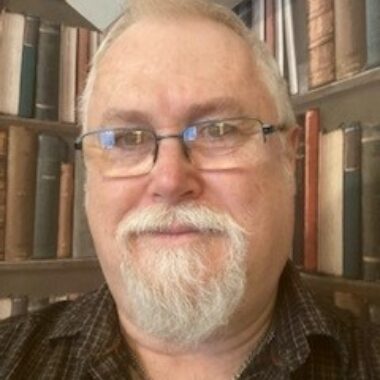 Dave Alderson
Activities & Community Engagement (ACE) Facilitator
Dave is a proud Yorkshire man who travelled the world but found Jesus in Norwich at a Billy Graham event. Having started his working life as an artist and graphic designer, he was called into Christian ministry at the age of 21. Dave describes himself as a genuinely shy man who God put on the frontline of service. Roles he has taken on have included Christian Youth Work with YFC, Youth Pastor & Evangelist, Drug & Alcohol Treatment Worker, Youth Advisor and Toilet-roll Maker.
As our Activities & Community Engagement (ACE) Facilitator at Framland, Dave oversees the programme of activities, which includes managing the team of volunteers. He loves working with older people, especially hearing the stories of the amazing lives they have lived.
By his own admission he is someone you will not find on a sports field but rather in the warmth, playing his guitar or reading a book.
A proud father of four and grandfather of 10, he, together with his wife, enjoys the adventure of all that life and world has to reveal.
Contact & Location
Address:
FRAMLAND, NALDERTOWN, WANTAGE OX12 9DL
Email:
Tel:
How to find us
By car
Wantage is about a 15 minute drive from the A34. For sat-nav, please use OX12 9EB
By train/bus
Framland is about a 25 minute taxi ride from Didcot station and a 5 minute taxi ride from the bus stop.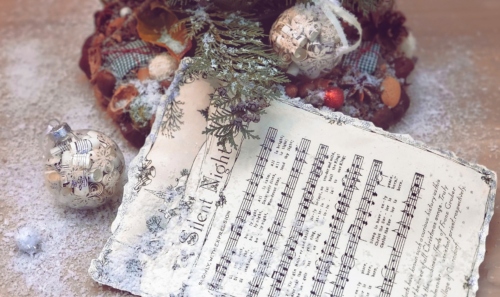 Our family members share fond memories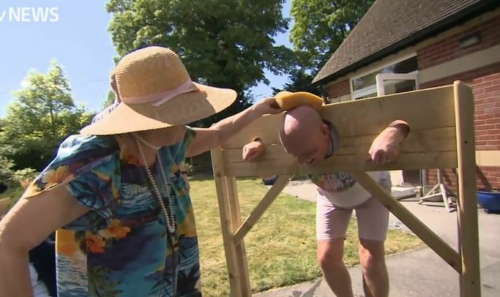 During the heatwave, Framland, our home in Wantage, were featured on ITV with some top tips for keeping cool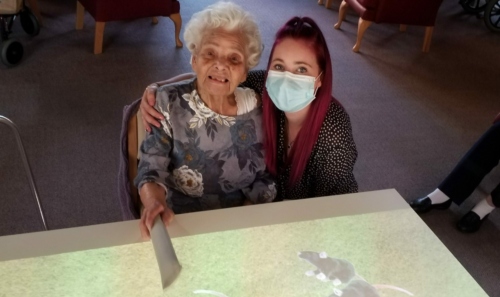 We've introduced interactive projectors to our homes as part of The Way We Care, our bespoke approach to care
Jobs at Framland, Wantage