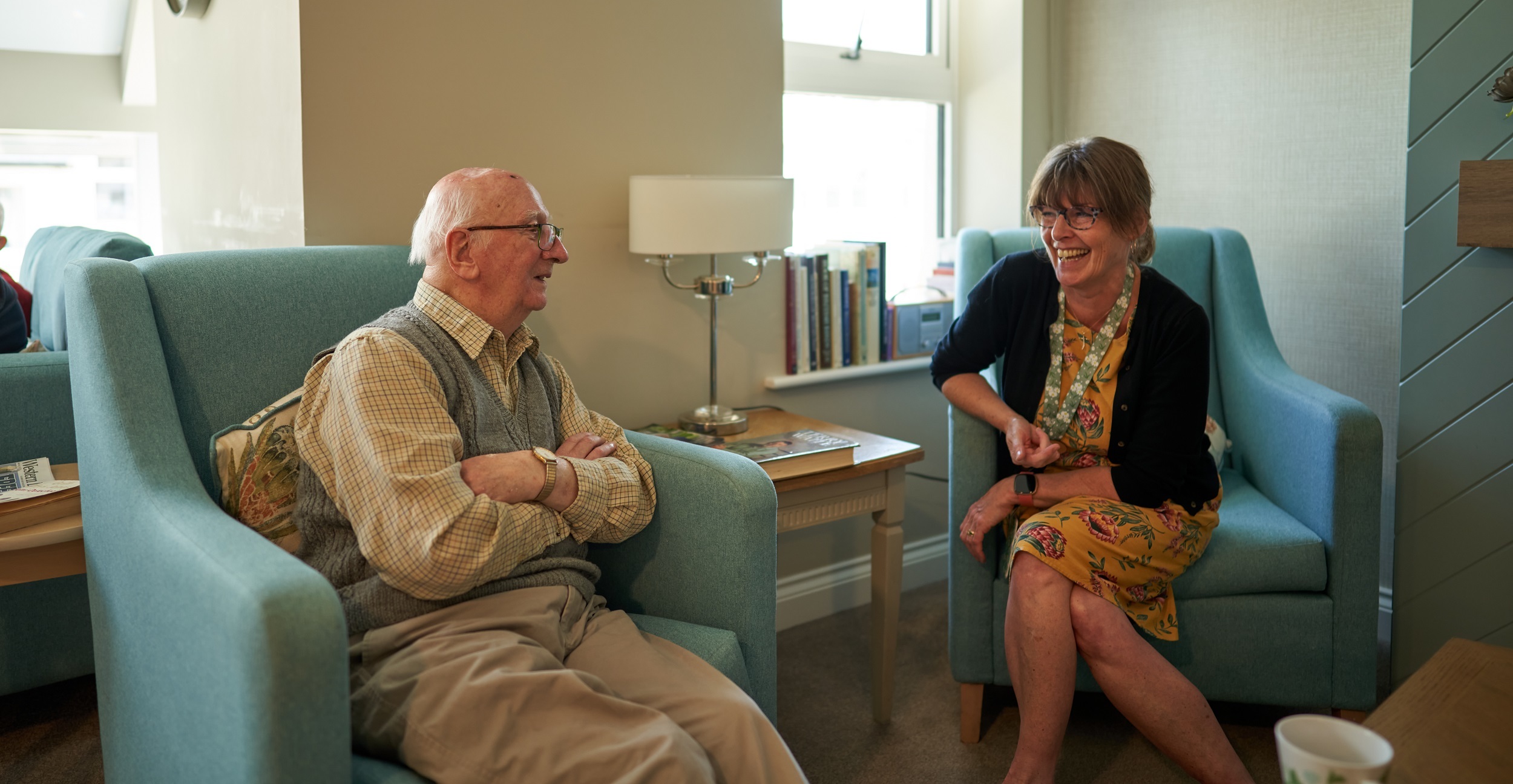 Wednesday 30th August 2023
The Way We Care - Friederike explains
At Pilgrims' Friend Society, we have developed a bespoke Christian approach to care which we call The Way We Care. Our Operations Manager Friederike Hamilton heads up this area of our work. Here, she explains what makes this approach to care so special, including the vital role of The Way We Care Leads in each of our homes
What is The Way We Care? It's caring for older people as individuals in a way that recognises each person has been uniquely created by God. As we age, physical needs increase and we may need support with the tasks of daily life. But emotional and spiritual needs remain too. We have our different likes and dislikes.
Spiritual growth continues even as other abilities may decrease. At the heart of dignified, respectful care is the ability to see the whole person and respond to them where they are, giving them opportunities to contribute to life within a community.

A biblical basis
Every part of what The Way We Care looks like in the daily lives of our care homes is rooted in how the Bible tells us to treat and support others around us. We take the time to get to know each person really well, finding out about their life history, their interests and preferences, and their spiritual journey. We'll ask our 'family members', as we call those who live with us, if they have any particular Bible verses and hymns they like. Devotional times are part of life in our homes, with regular opportunities for family members to meet for times of collective worship, including hymns, prayer and a talk from the Bible. There are opportunities for family members to take an active role in the spiritual life of the home.
At Shottermill House in Haslemere, for example, there's a Bible study group that meets led by family members.
Our The Way We Care Leads
Each of our homes has a The Way We Care Lead who works closely with family members, observing what is happening and seeking to address needs as they arise in partnership with care staff and family members. Our The Way We Care Lead also has a vital role to play in training other staff, ensuring they understand our vision for care and have the tools they need to support those in our homes to flourish. Life in a care home can be busy.
Our The Way We Care Leads work closely with our managers and gather feedback from staff to build a bigger picture, ensuring the needs of individuals are picked up and responded to.
Caring for those with dementia
Many of those in our homes are living with dementia. They may no longer find it possible to articulate their own needs. That's why it is so important that the staff in our homes go the extra mile, tuning in to them and making sure they have everything they need to feel contented.
Our approach to caring for those with dementia has been developed with reference to leading figures in the field, notably Professor Tom Kitwood. While working at the University of Bradford in the late 1980s, Kitwood made the case for a person-centred approach to care, where each person is cared for in response to their needs, as opposed to staff sticking rigidly to routines and practices dictated by the setting. Central to this approach is recognising that the challenging or unusual behaviour a person may exhibit may signal an unmet need they are trying to communicate.
We also include the 'feelings matter most' approach championed by David Sheard which recognises how a person's feelings remain, even as cognitive function may diminish.
Across our homes, we use the GEMS framework developed by Teepa Snow, a dementia care specialist and occupational therapist. Under this framework, each person is seen as a precious jewel who may exhibit different behaviours and require different kinds of responses depending on where they are on their dementia journey.
We also employ Hummingbirds who play a vital role in supporting individuals living with dementia. The name Hummingbird is inspired by how a hummingbird flits from flower to flower. Our Hummingbirds move from person to person, providing short, meaningful connections. They are trained to recognise the various stages of dementia, understanding the best ways to approach individuals, respecting their current reality and connecting with them accordingly.
This dedicated approach means that no one goes long without an interaction.
As part of The Way We Care, we work closely with people's families. We have one lady, Anne, whose family asked if I could help support her interactions with staff as she would often respond to questions by saying, "I don't know". I've made a conversation book for Anne that she can look at with carers and our Hummingbirds. It has things in it like details of her life history, her likes and dislikes and some poems about Winnie-the-Pooh as I know she really loves reading those. Now everyone has some ideas for ways to connect with her.
Jenny, The Way We Care Lead at Evington Home, Leicester
Once a week I'll sit down with Deborah, our Activities & Community Engagement (ACE) Facilitator, and we'll talk about our family members' needs and how we can better support them. One of our family members needed extra support with her sensory needs due to her dementia – we found some materials which helped her with this and she has been a lot happier and more settled since.
Lux, The Way We Care Lead at Shottermill House, Haslemere
Recently, we've been focusing on our dining room etiquette. One lady told me she felt like she was being rushed. Now, if anyone is still eating on a table, staff know to wait before clearing plates. We've worked on creating a calming atmosphere in the dining room, which is adjacent to the lounge. Now at mealtimes the television goes off and we put on some soothing music. Before the meal, we all pause and one of our family members says grace – we ask a different person each day. I've made some little cards with grace written on in case anyone needs that as a support. It's a quiet moment of reflection and a lovely way to include connection with the Lord during the day.
Sonya, The Way We Care Lead at Luff House, Walton-on-the-Naze
Stopping to ask questions is so important. We have a gentleman living with us, Barry, who wasn't eating anything at breakfast time. There was cereal, there was toast. It turned out that what he actually likes is a hot breakfast. So now that's what he has.
It's also important not to assume things. One evening I was on the evening shift. I asked one lady what she would like to drink and she said, "Coffee." Another lady, Maggie, was sitting close by. She said, "I'd love a coffee." I was so surprised. Maggie always drinks tea. At least, I thought she did. It's incidents like this that help us reflect on the importance of not getting stuck in patterns and taking the time to ask.
Mark, The Way We Care Lead at Emmaus House, Harrogate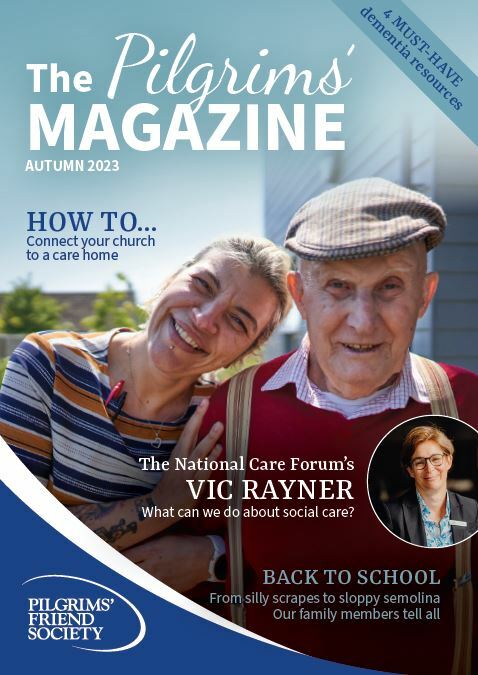 Get our
magazine
To receive your copy of the magazine FREE four times a year, sign up now.
More about The Way We Care