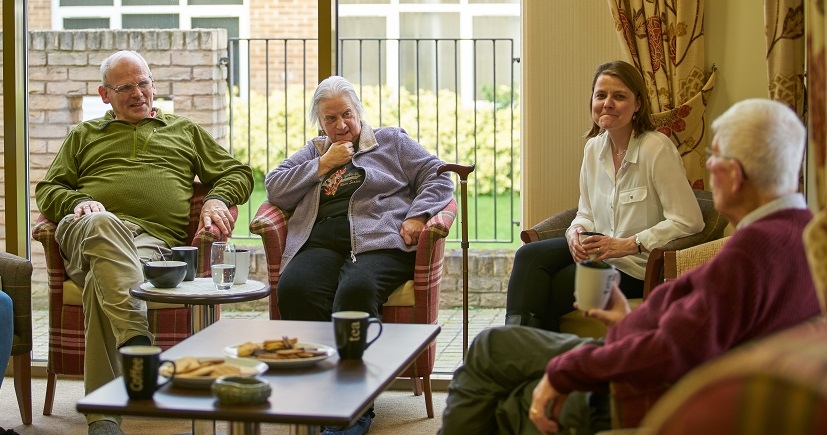 Thursday 14th January 2021
Christmas Memories - Pilgrim Gardens
Those living at Pilgrim Gardens, Leicester, put together a collective poem of Christmas memories


I Remember: Christmas
I remember finding three-penny silver pieces (sixpence) in the Christmas pudding,
I remember my father making egg nog with Advocat,
I remember my brother insisting he always cracked all the nuts that folk wanted,
I remember spending Christmas with my grandparents in Southall every year,
I remember listening to a 'talking book' – The First Christmas Morning played on my granddad's huge gramophone,
When a bell rang I had to turn the page to a new picture of the Christmas story (I still have the 'talking book' but can't play the '78!),
I remember kneeling on the end of my huge bed, at my grandparents',
And looking out at the stars and wishing an angel would take me to Bethlehem so that I could see baby Jesus,
I remember trying to stay awake late in the evening so as to not miss anything although I really wanted to go to bed,
I remember playing Monopoly at my aunty and uncles' house 'til after midnight,
I remember a letter to Father Christmas – two items only to be asked for but added '…and anything you have to SPARE!!!'
I remember being hot by the fire and cold when we moved away,
I remember finding out that Father Christmas wasn't real and my brother, who is older, crying because he still believed in Father Christmas,
I remember calling "Has he been?" waiting for my stocking to be filled,
I remember 'Uncle Bert' who always gave us children our annual Dandy, Beano or Film Fun as we grew,
I remember 'thank you' letters had to be written on Boxing Day morning,
I remember the Christmas tree being pulled into the entire room and we danced around it on Boxing Day evening and received sweet goodies from it,
I remember my German Christmas and got our presents on Christmas Eve after the carol service,
Much better than when I moved to the UK and could not sleep that night awaiting Christmas morning – 4am!
Now in my old age, I hardly bother with presents,
Wife never gets me what I want – I get it myself – mind you,
I do miss the good old carol services with the nativity play – though the last time I went, the shepherd just sucked his thumb,
I remember when I was Mary in the nativity play at school and at church,
There was a real baby as Jesus and I thought I would drop him and I nearly did,
I remember when my husband and I went on a Christmas market cruise around Austria and Germany,
It was lovely to see all the things that they had made from wood, metal and glass,
I remember going around houses with a church group singing carols,
It felt very dark and late, although it was probably only about 8pm,
I remember carol singing all along our terraced houses,
We remember when our church group in Brisbane, Australia, went around the area carol singing,
That year (summer of course there) we spent most of the time picking up the roofs of houses blown off in the gale,
At least we were seen as 'good neighbours',
I remember Christmas always being one of the hottest days of the year,
I remember the balloons bursting in the heat on the veranda.
I remember it was the season of lovely large plums – my favourite at the meal,
I remember hunting for presents in my parents' wardrobe,
I remember my mother's cooking and having plenty of food in the war years,
I remember one Christmas when Mum and Dad said there would be no Christmas dinner and presents as there was not enough money,
So we prayed about it and later on there was a knock at the door and it was someone with a turkey and everything else,
I remember we always had people come in to share in our Christmas dinner – my parents always invited people who were lonely,
I remember when my sister had a toy sewing machine for Christmas,
She didn't think she had any presents but the machine was at the side of her bed – not at the end, like mine,
When she found it she spent the rest of the day collecting scraps of material and making dolls' clothes,
I remember my father always telling people that Christmas was to celebrate when Jesus came to earth so He could grow up as a man and later die on the cross for our sins so we could know Him as our saviour and spend eternity with Him in heaven,
I remember my first Christmas after my conversion to Christ,
I realised that the Lord Jesus Christ had become a man for the sake of His people and that included me,
I remember the residents love me in Pilgrim Gardens. They are Christian. I am very happy.