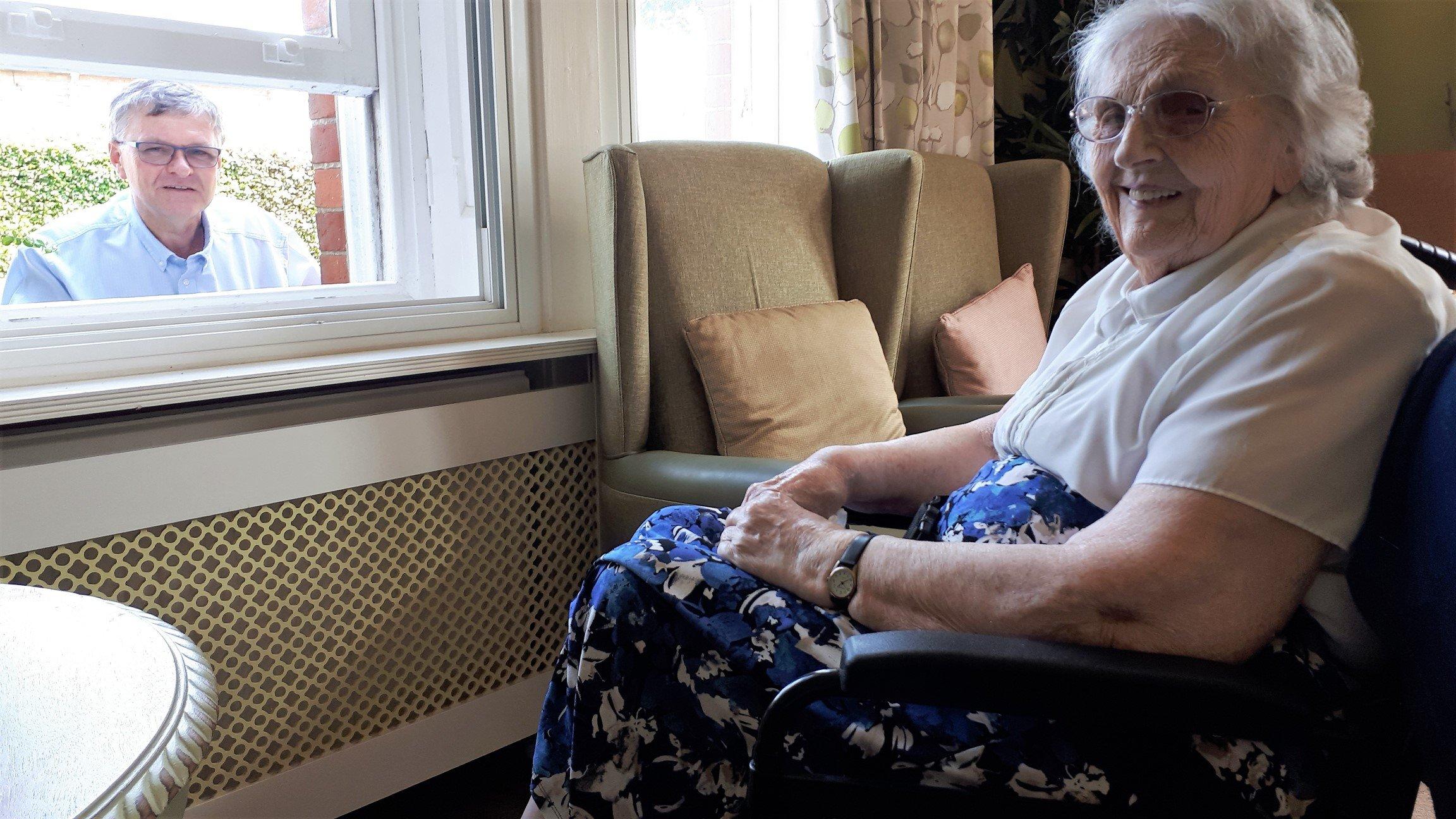 Thursday 9th July 2020
From window chats to calls over Zoom
How those living at our homes and schemes are finding new ways to connect with the outside world
At times during the Covid lockdown, those living in our care homes and housing schemes have had to stay in their rooms with the doors closed. All visitors were barred, including the usual medical and care teams such as the phlebotomists, chiropodists and hairdressers. The homes were unnaturally quiet. "It was not an easy atmosphere," said one home administrator. "But on the day residents' room doors were opened again there was a change - you could feel the rise in the carers' spirits!"
Although the doors are open and the medical and care teams are coming back in, there are still restrictions on visits from residents' friends and families. So they are 'virtually visiting' using Zoom and, at Framland in Wantage, through an open window.
Framland manager, Beth Kneale, says that some residents have really taken to Zoom. "Some take a minute or two to focus in," she said, "but give them that minute or two and they love it!"
Others prefer to chat through an open window. Beth said:
Residents think it's really great to see them like this, to be physically there. They are much brighter for it.
About half the relatives ask for a window visit. Each visit is for 15 minutes, and they sit the required two metres apart. In between each visit, the window surround is disinfected thoroughly.
Until recently resident Lynne Mountjoy's only contact with her husband Duncan were the kisses he blew to her over the garden wall each day. Duncan says that to be able to see Lynn physically is great, adding, "The only thing to surpass that is to be able to give her a hug!"
Once the Covid crisis is over the window visits will end, but Beth says that residents love the Zoom chats and they could be here to stay. So Framland was grateful for a tablet donated by A J Bell, a company in Manchester that was running a campaign, 'Wage War on Covid'. A J Bell invited applications from deserving causes, and Framland was nominated by a son grateful for how well his father was cared for when he was in the home. It is a gift that will go on speaking of the loving care at Framland.
Find out how one resident at Shottermill House, Surrey found a new way to stay in touch with his neighbours