Monday 7th June 2021
Life stories - Pam, Carey Gardens
Having lived in Kirby Muxloe, Leicestershire most of her life, Pam, 86 feels right at home at Carey Gardens, our independent living scheme located in the village. It's the perfect place from which to enjoy her favourite hobby – fly-fishing
Pam's love of fishing has its roots in childhood. "We used to go to Barmouth in North Wales for our holidays and my father would go fly-fishing for salmon. My sister and I went with him – I absolutely loved it."
As an adult, Pam always had a hankering to learn fly-fishing herself, but it was only at the age of 70 that she finally realised her ambition. She made enquiries at the nearby Thornton Reservoir, where there was a local fishing guide, Ifor Jones. "I said, 'Do you teach old ladies?' He took me for my first lesson. It was hard standing on the pontoon casting off. But I was determined. Ifor said afterwards that he realised that I wasn't going to be easily put off."
It's fair to say she was hooked. These days Pam's favourite way to fish is from a boat and she mostly catches trout. "Out on the water it's just so peaceful watching the birds and other wildlife," she says. Other of her favourite fishing spots include Draycote Water in Warwickshire and Eyebrook in Rutland.

Pam always takes at least one companion with her, with two of the most frequent being fellow fisherwomen Linda and Carolyn."Linda used to go fishing with her husband. When he died, Ifor pointed her in my direction – I felt ever so proud. Similarly, Carolyn was a widow keen to learn fishing and Ifor suggested I show her the ropes."
One summer Linda and Pam went on a fishing trip to Scotland, staying at the magnificent Tigh Mor castle in the Trossachs. The ladies picked up some top fishing tips from Morris Meikle, a local 'ghillie' – a Scots word for a fishing or hunting guide. Morris promised the ladies that if they came back next year he would take them salmon fishing. And so they returned, this time with Carolyn too.
"When you go salmon fishing you have to keep throwing the line and spinning it round. It was so much fun. I even caught a salmon!" says Pam.
Pam's fellow residents at Carey Gardens are often the beneficiaries of her adroit fishing skills. In normal times the scheme has a monthly Friday night dinner, with Pam's freshly-caught trout gracing the table. It's a social event that everyone hopes will return as lockdown eases.
Pam has lived in Leicestershire all her life. She was born on 23rd August 1934, a year and a day after her older sister Mary. Her early childhood was spent in the village of Great Glen, where her family lived in a cottage, Rose Cottage. "Over the wall it was just pure fields, which was wonderful as a child."
Her father was the church bell ringer and her mother was in the Mothers' Union. "We loved going to church," says Pam. "I remember it so vividly. There was a beautiful brass eagle lectern at the front which I liked looking at."
Every week Pam and her sister went to Sunday School. "I loved hearing all the stories at Sunday School – I loved a good story then, and I still do now."
When Pam was 15, the family moved to Kirby Muxloe on account of their father's job with the water department. One of the first things the family did on moving to the village was go to the local Anglican church, St Bartholomew's. "We knew we would find friends and people there," says Pam. Her father volunteered as a bell ringer and quickly found himself promoted to captain of the bells.

Sadly, tragedy struck when Pam was in her early fifties. One day, Rod came home complaining of a pain in his shoulder. When the pain didn't go away, he went to the doctor, thinking it was probably rheumatism. However, it was discovered that he had myeloma, a type of cancer of the bone marrow.
"At that time in my life I needed my faith more than ever," says Pam. Giving up her job as a telephonist, Pam nursed Rod at home.
Rod eventually went into LOROS, a local hospice, where he passed away in 1989. "Then it was the three of us," says Pam. Not long after, her sister Mary's husband also died. "We'd always been so close, and now we were able to support each other through grief," says Pam. "We did everything together, including going on holiday. We had some lovely cruises all over the world."
A turning point came for Pam when, shortly after taking up fly-fishing, she fell and broke her ankle. The accident prompted her to think about moving into Carey Gardens, which had recently been built by Kirby Muxloe Free Church. "I realised a time was coming when I would be better off living with others than on my own," she says.
When a flat became vacant, she went to look around. "As soon as I walked in, I knew that I would be happy here. It's the best thing I ever did. I think a lot of people don't make the decision to move early enough. It's lovely because we're all together but still separate. You're not duty-bound to join in with all the 'escapades' but at the same time it's lots of fun. As well as Friday night socials, we also usually have coffee mornings twice a week and regular visiting speakers."

On leaving school Pam got a job at the main telephone exchange in Leicester. "There were several of us who were Christian. We got a little group together and met during our dinner break on a Wednesday."
In 1956, she married Rod whom she knew from school. Coincidentally, they shared a birthday, although Rod was a year older. They had two sons, Ian and Simon. The family moved into a house on Church Road in Kirby Muxloe, the roof of which Pam can see from her window at Carey Gardens. Rod worked for a shoe waste company before becoming a driver for Walkers crisps.
Sadly, her son Ian passed away in 2011 and a few years later in 2018 Pam lost her sister Mary to breast cancer. "I can't tell you how much I miss her, but it was her time. We were so lucky to have each other. We always shared our families with each other. Now more than ever, her daughter Shirley is like a daughter to me and her children see me as a grandma."
The community of Carey Gardens and Kirby Muxloe has been a strong support, especially during the pandemic. St Bartholomew's has been able to open for private prayer. As life has slowly been returning to normal, Pam has enjoyed getting back on the water. "The first day was very emotional," she says. "The sun was warm on the water, the birds were out, and the people walking around were so happy. Everything felt so much better."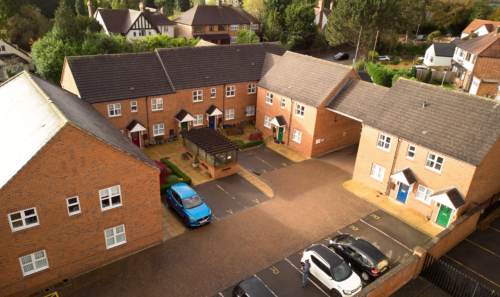 Carey Gardens is a 13-flat independent living housing scheme located in the village of Kirby Muxloe in Leicestershire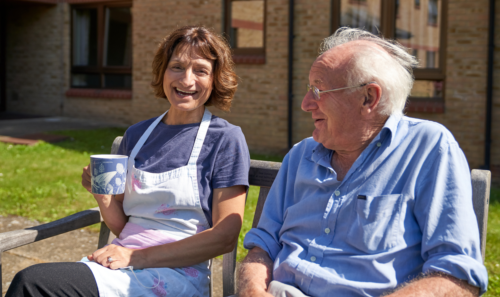 When you choose to live in one of our housing schemes, you'll be joining a vibrant Christian community with the peace and independence that comes with your own space.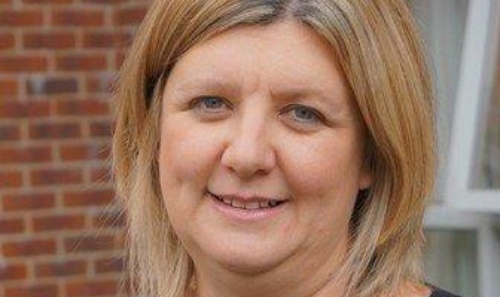 We spoke to Vicki Miller about why Royd Court, Mirfield, is a brilliant place to move in later life