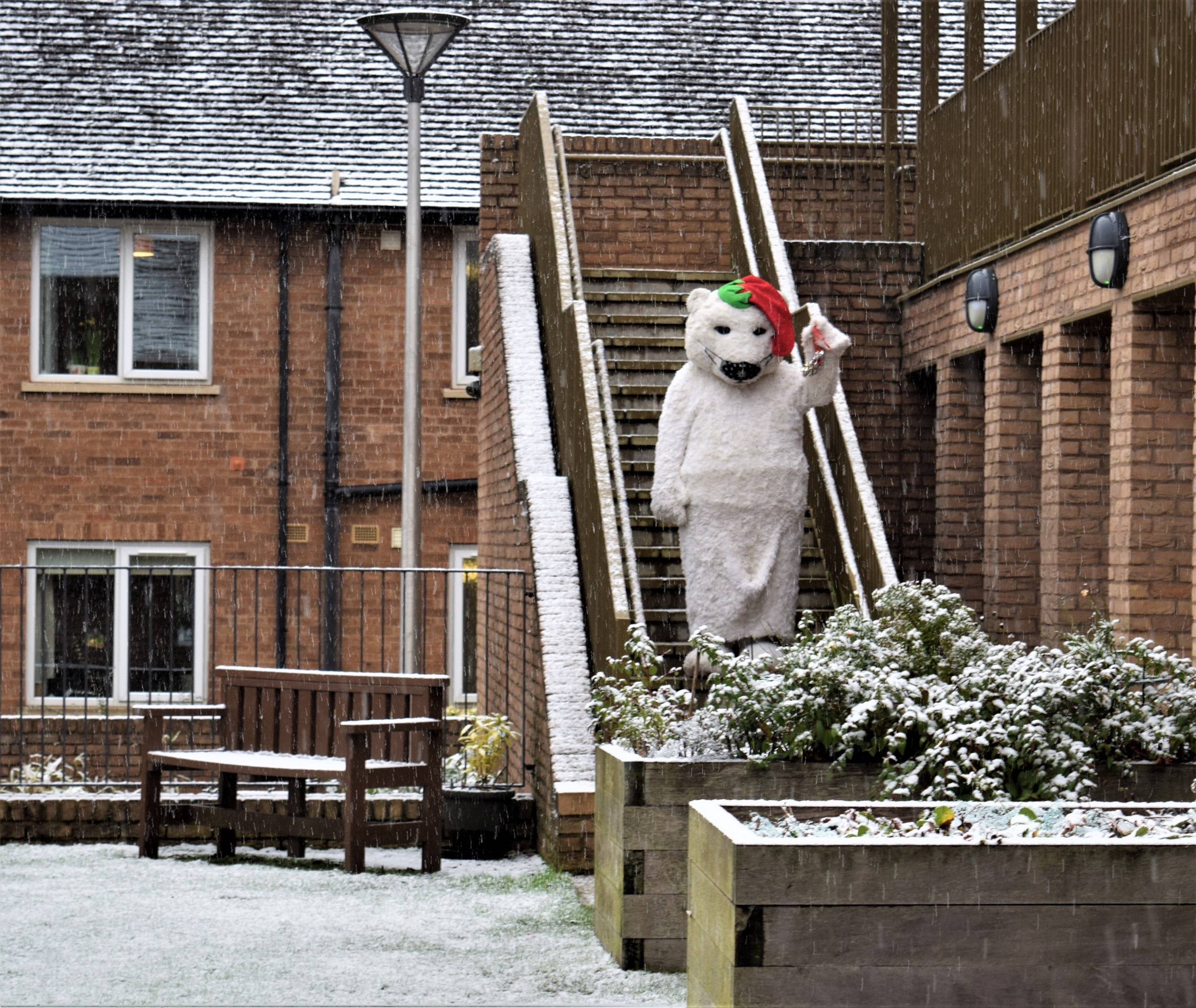 Monday 20th December 2021
Meet the polar bear... Osy
Why do you have a polar bear costume?
I got it for the 100th marathon I ran, which was in 2006. It being my 100th marathon, I was looking to do something a bit special for charity and decided to take part in the North Pole Marathon. I found the costume online – a certain soft drinks manufacturer used to use them for advertising and they were being sold off.
A marathon at the North Pole? That sounds pretty chilly! Tell us more...
It was only minus –23 degrees Celsius, so not too bad really. The course is a little distance from the true North Pole and is 17 laps long. I only did two or three laps in the polar bear costume as it's actually quite hard to run in, and then the rest I did in more walking-type gear. Some parts of the course were a bit slippery, but mostly the snow was compacted.
Did you meet any other polar bears while you were there?
No – no polar bears actually live at the North Pole, they are in the Arctic Circle but a bit further out.
How did you get into running marathons in the first place?
I watched the London Marathon on TV one year and thought 'that looks fun'. So the next year I applied and got a place. I don't actually like running that much, for me it's about the atmosphere, and dressing up for charity, and getting a medal. I've had a few different costumes over the years, including a clown and an Egyptian mummy.
Who have you raised money for?
When I started I used to raise money for the soup kitchen at my church, Muswell Hill Baptist Church, where I was the caretaker for 34 years. I've also run for Save the Children. When we moved to Leicester, I found out about a local charity called LOROS that supports End of Life care and I've run quite a few times for them. Each year, I dress up in my polar bear costume at Christmas and stand with a bucket at the Leicester Clock Tower. Since the pandemic, I've added a mask to the costume.
How many marathons have you run in total?
I've now done 204 marathons. Before the pandemic, I went all around the world running marathons. I've run them in Boston, New York, Athens, Berlin and Toyko, to name just a few. I did 155 marathons before the pandemic, and the rest since. Some have been 'virtual marathon' events, like the Virtual Boston Marathon. The way it works is they give you a set timeframe in which to run the marathon and then you go out onto your local streets and time yourself.

As you have become older, have you had to make any adjustments?
Yes, I go at a much slower pace. I've never been bothered too much about my time. In the past, I've done a marathon in under four hours but these days it might take me six or seven hours, and I might stop for a coffee partway through.
What does your wife, Kate, think of your marathon running?
She enjoys coming along to take watch. Sometimes she's so busy looking at all the other runners that she doesn't manage to spot me!
You've told us running in a polar bear costume can be quite tricky. What about singing in one?
For the Pilgrims' Friend Society carol singing video I didn't actually sing as no-one would have heard me. But I still had fun appearing as a polar bear. As well as filming our carol for the video, we did a carol singing performance for Evington Home, just opposite Pilgrim Gardens, and the polar bear made another appearance there.
Find out more about living with us...