Monday 20th June 2022
Meet the volunteer... Evie at Shottermill House
Sixth form student Evie is a volunteer at Shottermill House in Haslemere. She told us how spending time with older people has opened her eyes to new ways of thinking and helped inspire her to pursue a career in medicine
I got in touch with Shottermill House after seeing an advert for volunteers in our school library magazine. I want to do medicine at university and working in a care home seemed like a good way to get practical experience of caring for people. I got in touch with the lady who ran activities at the time. She was very forthcoming and helped me arrange a week of work experience in September 2021.
As part of my work experience, I had the opportunity to talk to Babi, the Registered Care Manager. She told me how they ensure great care is delivered across the care home, taking each family member's needs into consideration. I had lots of opportunities to spend time with the family members themselves. I was fascinated to find out how their lives were so different from now. I think I was the only one out of my friends who actually enjoyed their work experience – many of them went to businesses and were doing admin jobs, but I was interacting with people all day, which I loved.
I enjoyed my work experience so much that I decided to continue visiting as a volunteer. I'm in my second year of sixth form and life is very busy at the moment with exams – I'm doing A-Levels in Biology, Chemistry, Maths and Geography. I also swim competitively and train five times a week. One of the lovely things about volunteering at Shottermill is that I'm not tied to a set time and day, I pop in when I can, usually once or twice a month. I've also found that having a busy schedule means I use my study time much more effectively.
One lady I've met is Hazel, who was a missionary in Ethiopia. She told me all about her life out there as a teacher. She was so devoted to helping other people that she was prepared to go far away from home. She didn't have to do it, but she went because she wanted to.
Another lady, Lily, told me how she'd driven to a from London to Australia in a car, via Dubai. The people living here have done such amazing things.
As part of my gap year, I'd like to travel to New Zealand. Ros, another family member, is from there and it's been interesting talking to her about her home country.
One of the biggest things I've learnt is that communication is about more than just speech. There's another lady, Olive, who finds it very difficult to hear but she loves letter writing and that's how she can share her stories with me. She and I write to each other about three times a month. I went to Portugal the other week and sent her a postcard. She likes to hear about my hobbies – I do bell ringing at my local church and she enjoys hearing about that. Her letters to me can be a bit melancholic. Sometimes she writes about her childhood and it's made me realise how powerful childhood years can be – she still remembers things that happened to her when she was 10. It's made me want to make the most opportunities that come my way.
There's another lady called Doreen who doesn't speak now, but she can still communicate. We'll look at a book together, or play with an activity blanket. There are still things she enjoys and appreciates.
I enjoy playing games with the family members. We have a balloon and bats game which is pretty fun, or we'll play dominoes. In the run-up to the Christmas, we decorated the tree together. The family members loved seeing all the gold decorations.
At Christmas, I sent cards to everyone in the home. I couldn't visit at that time due to COVID restrictions. People can feel forgotten at Christmas and just to know that someone is thinking of them can mean a lot. Often, the older people think they are burdening me, but that's not the case at all. I really enjoy it. It was lovely when some of them wrote back.
Volunteering in a care home has definitely made me see things from a different perspective and value things more. I think it's so important to connect with people from different generations, and to give back to people who have spent their lives giving so much.
When it comes to faith, I'm still thinking things through. I can see what an impact it's had on the lives of the family members.
I'm really committed to studying medicine now. I've discovered that the caring side is the bit I like the most. I also like the academic side of study, but I wouldn't want to go and sit in a lab and just do chemistry all day. I like the balance of science and interacting with people.
Find out volunteering and living with us...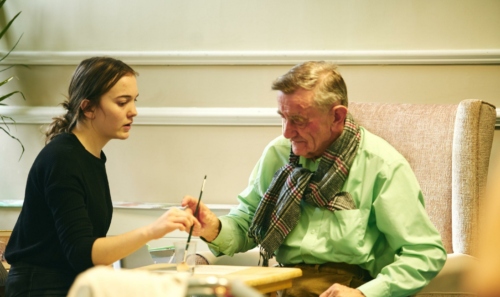 Volunteers play a vital role in supporting the life of our homes. Come and be a friendly face and brighten someone's day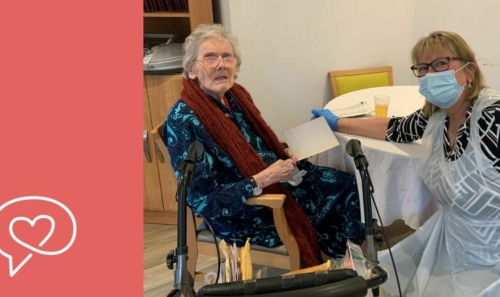 As part of our Friendship Is Ageless campaign, we're celebrating friendship! With her talent for reciting poetry and her warm and generous nature, Olive, who lives at Shottermill House, Haslemere, is a cherished friend to Jo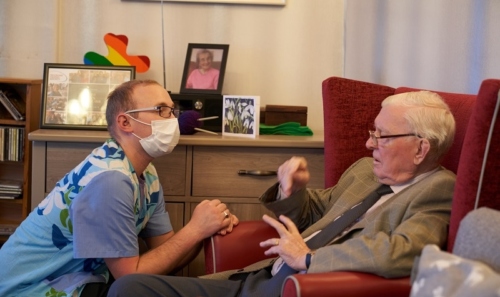 Our unique approach to ensuring that older people have all that they need to flourish in their later years