Thursday 4th March 2021
Our Vision: The Way We Care
At Pilgrims' Friend Society, we've developed a unique approach to care which we call The Way We Care. Rooted in our Christian faith, our approach focuses on caring for the whole person, including their spiritual needs
Lynn Hall, Operations Manager at Pilgrims' Friend Society, has had a big part to play in developing The Way We Care. "As a Christian organisation, we think of ourselves as caring for members of God's family in the way that God cares for people," she says. "Those who live with us are His children. He knows them inside and out and loves them deeply. It's our role to do the same, understanding what is important to them, what makes them whole, what makes them feel better, and what things when remembered bring tears of joy, putting them first and helping them connect to Jesus."
Getting to know every individual who comes to live with us is at the heart of our approach. We take the time to talk to them about their likes and dislikes, their life history and their interests, and to talk to their relatives too.
Daily life with us
Our person-centred approach shapes the daily life of our homes. "Not everyone is a 'morning person'" says Sue Vine, part of the team at Luff House, Walton-on-the-Naze.
"We're sensitive to that." Rather than following a set routine, as may have been the case in care homes in times gone past, we value each person's preferences and accommodate their wishes as much as we can. Sue continues, "When we enter somebody's room, we'll greet them with a smile, but stop at the edge of their personal space. We wait to see their response. If someone pulls the duvet over their head, we give it 15 minutes. Often people just need a bit of time and space. After all, this is their home."
Enjoying life together
The Way We Care reflects the biblical idea that we are made for community and can enjoy doing things with others. Across our homes, Activities Facilitators lead fun activities that give people the chance to try new things.
"People might say, 'I'm no good at painting'. But with encouragement, they really enjoy it," says Sue.
Wherever possible, people have the opportunity to contribute to daily life and experience the satisfaction that comes from being hands-on, folding the napkins or helping to peel the vegetables. At Finborough Court, our home in Suffolk, one man, who had been a plasterer all his life, was pleased to be given the job of sanding down a bench.

Making connections
Many of those who make their home with us are living with dementia. In developing our approach to dementia care, we've drawn on the work of Professor Tom Kitwood, who emphasises the importance of making connections, ensuring the person comes first.
"Every one of us is different," says Sue. "To care for someone, you need to understand where they are coming from and be able to relate to them."
At Luff House, one way the team develops connections with their 'family members' (as we call those who live with us) is by creating memory boxes which sit outside each person's room. Each box has the person's photo on it and is filled with special objects. One lady, for example, used to make ballroom dresses, and so her box includes sequinned material, a tape measure and cotton reels.
"Having familiar objects like this not only helps each person feel safe and reassured, it also gives anyone who passes a glimpse of who that person is," says Sue.
The memory boxes become talking points. "One lady was looking at her memory box and asked us, 'Why isn't there a motorbike?'. It turned out that as a young woman she'd loved speedway racing in Romford. We'd had no idea. Now, we've added a little toy motorbike. She's delighted with it."
Spiritual life
Everyone who comes to live with us is encouraged in their walk with the Lord. All our homes have regular devotions sessions, with short talks from the Bible, the singing of hymns, and prayer.
Even those in more advanced stages of dementia can benefit from these times of worship, joining in with the familiar words of hymns and even praying out-loud. Our staff also take the time to sit with family members one-to-one, sharing Bible verses and prayer.
We recognise that those who live with us can continue their own unique ministry. "There's one lady who always carries her Bible round so she can read it. She is a real encouragement to me," says Sue.
The dementia journey
Through The Way We Care, we see the whole person, looking beyond their physical needs to their spirit and supporting them as they continue their journey with God, even as other capabilities may diminish.
We also draw inspiration from the GEMS model developed by Teepa Snow. This model is based on the idea that just as gemstones need different settings and care to show their best characteristics, so do people. As people move through the different phases of dementia, represented by different gemstones, they need those caring to adapt their approach.
"At the later stages of dementia, a person's perception changes," says Sue. "They might see hazards that aren't there, like seeing the floor as water. We tune into where each person is on their dementia journey and provide the support they need, as a guiding arm around their shoulder, perhaps."
Our Hummingbirds
To further support those with dementia, we've created the role of the Hummingbird. The role is inspired by the work of Dr David Sheard, who introduced the idea of 'butterflies' – people who spend short, quality amounts of time with those with dementia, moving from person to person.
Vanessa Large is a Hummingbird at Finborough Court, our home in Suffolk. "I see my role as being a friend. I get to know people on a personal level and tune in to how they are feeling."
Developing this relationship, including getting to know a person's life history, means Vanessa can provide support. "One lady living with us used to live on a farm. If she's feeling agitated, I've found showing her a picture of her chickens and the strawberries she used to grow really calms her," she says.
Words from a loved one
Sue Twort's husband Roy, 85, has been living at Luff House since July 2019 and is now in the later stages of Alzheimer's Disease. A committed Christian all his life, Sue knew that a Christian home was the place for him.
"What makes all the difference is that the staff can read him," she says. "They know his personality and can sense what he is feeling. I know by his demeanour that he feels safe and cared for. And that means I feel safe with him there, too."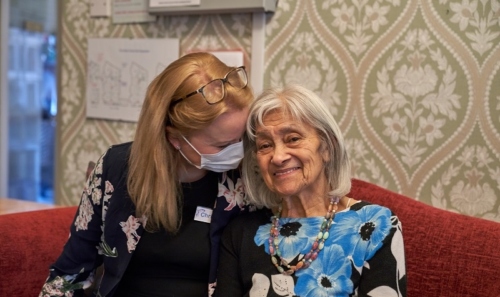 Our unique approach to ensuring that older people have all that they need to flourish in their later years.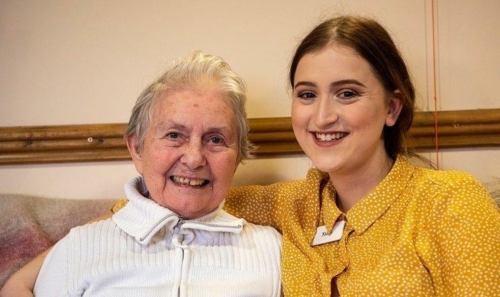 We support those living with dementia to live a happy and fulfilled life.
Living in our homes means being part of a warm and friendly community.