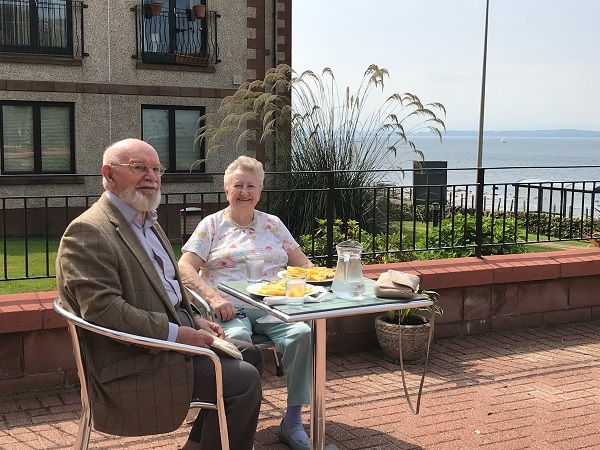 Wednesday 2nd September 2020
Planes, parades and polo
After a lifetime of equine adventures, for Glasgow-born Bob, moving to Strathclyde House felt like coming home
From his window at Strathclyde House, Skelmorlie, Bob, 89, enjoys soaking up the views. Ferries ply back and forth across the shifting waters and on the other side of the Clyde he can see the Isle of Bute. "There's always something interesting to see," he says. "My wife Islay was born on Bute, and we were married at Weymss Bay which is just a mile up the road. So for us moving to Strathclyde House felt like coming home."

Bob moved away from Scotland at the age of 18, led by a passion for horses. His grandfather was the horsemaster at a large stable in Glasgow and as a lad he spent his weekends helping out – leading the horses into the stables, removing their harnesses and making sure they were fed and watered. On leaving school, he joined the Royal Army Veterinary Corps, based at Melton Mowbray.

"It was my first time out of Scotland," he says, "It was a big adventure."
Bob's role involved training horses and riders. In time, it took him all over the globe. "We used to fly horses to British units where they were stationed abroad. I went to Hong Kong, Malaya (as it was then known) and Pakistan."

According to Bob, on the whole, horses make good travellers. "Following the initial take-off, the journey is remarkably smooth. You give them plenty of hay, and you make sure everything stays very quiet and there's nothing to frighten them."

After the leaving the Army in 1956, Bob, now married, moved into the Royal Mews at Buckingham Palace where he trained as a coachman. "Living in the Royal Mews was like living in a village in the centre of London," he says. "There's one huge building forming a square, with a courtyard in the middle. We had a comfortable flat in the married quarters."
Bob took part in numerous ceremonial processions, notably for the marriage of Princess Alexandra and Angus Ogilvy in 1963 and a state visit by the President of India in 1964. He also rode in the Trooping the Colour parade for the Queen's birthday.
His next move took him to a stud farm in Windsor where he bred and looked after polo ponies. Again, he found himself flying horses around the globe, either for breeding or to compete in polo competitions.
In 1966, he organised for 24 polo ponies to travel to Argentine in two plane-loads (12 per plane) to compete. Sadly, on the return journey one of the horses had to be put down as it was suffering from colic and kicking out in pain, which could have disturbed the other horses.

Bob's next role to took him to Newbury where he managed a stud farm. On retiring in 1994, he and his wife moved to Aviemore in Scotland where they enjoyed walking. As they grew older, the harsh Aviemore winters led them to consider other options, which is when they heard about Strathclyde House.

"My niece had visited it on an open day and thought we would like it, so we arranged a visit too."
Bob and Islay made the move in 2012 and have been enjoying life here ever since. "It's a peaceful place, and very welcoming. Everyone here as if of a like-mind. We've made lots of friends. In Aviemore, we were surrounded by cottages that were rented out on a weekly basis, so we didn't get to know anyone, really. Here, there's a sense of community."

With Glasgow airport only about 30-minutes drive, it is easy for Bob's children to visit from other parts of the country.
And while he's no longer at close quarters with horses, there's plenty of animal-life to watch. "We've had an oyster-catcher nesting in the grounds. And on a nice day, you see the seals coming up out of the water onto the rocks to bask in the sunshine."

Could you make your home at Strathclyde House? Find out more here