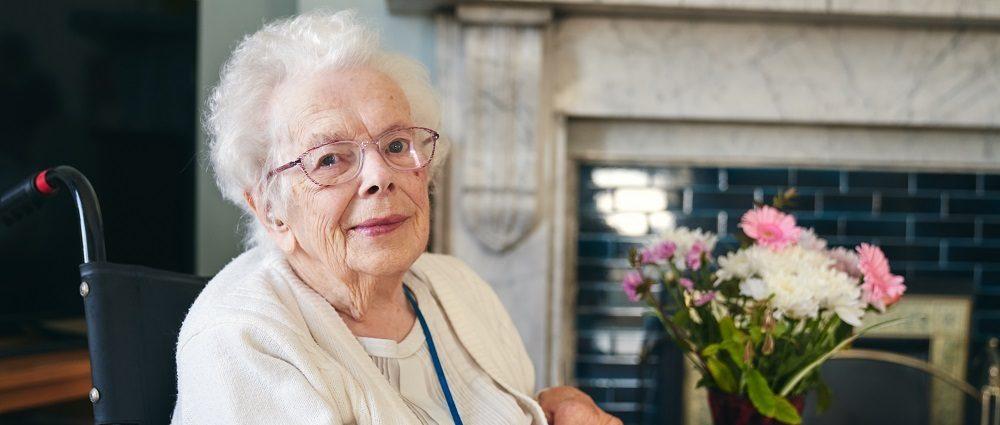 Thursday 28th January 2021
Residents' stories - Marian's story
Marian, now 95, moved into Bethany Christian Home, Plymouth, in 2018. Her daughter Kay shares how the home has been such a blessing
Before the coronavirus pandemic, Kay, on occasions took her mother Marian to Freedom Fields Park, next-door to Bethany. "My mum has dementia and struggles with short-term memory, but she remembers the park from childhood," says Kay. "During the war, her family were bombed out three times and ended up living in the area. She used to walk through the park on her way to school. It's lovely that she's close to somewhere so familiar."
Born in 1925, Marian has lived in Plymouth all her life. She worked as a shorthand typist before marrying husband Ed in 1948. They had three children, John, Kay and Anne. Brought up a Methodist, Marian always had a faith. However, it was in her forties that she really got going with the Lord. "My father wasn't a believer, but one day he took my brother to church. He came back excited, saying we all needed to be saved," says Kay.
Marian and Ed were very involved with church life. For a time, Ed served as a pastor, and Marian played piano. Regularly, visiting ministers and missionaries were hosted and welcomed with delicious meals and baked treats from Marian's kitchen.
After Ed passed away, Anne and her husband moved into the family home to help care for Marian, who suffers from osteoporosis, and John, who also has care needs. However, when Anne suffered poor physical health, the family struggled to cope.
"We reached a crisis point," says Kay. "Emma Hughes from Bethany was so kind to us. She helped get everything organised so Mum could move in."
Marian is now settled in a cosy room on the ground floor where she enjoys watching the changing seasons.
Due to coronavirus restrictions, she can now only have one visitor, who is Anne. "It's hard not seeing Mum face-to-face but we understand it's to keep everyone safe," says Kay. "Staff are good at charging up her tablet so we can video call.
"I have real peace of mind knowing Mum is so well-looked after. She's hearing the Word of God and enjoys fellowship. We feel so blessed as a family, a weight has been lifted."