Tuesday 7th September 2021
Residents' stories - Sheila
Sheila, 89, lives at Shottermill House in Haslemere. Her daughter Susan told us about her mother's journey of faith
Sheila was born in 1931, and was a child aged eight when the Second World War broke out in 1939. She has shared memories with her daughter Susan of going down into the air-raid shelter with her siblings. "It was very frightening hearing the bombs," says Susan, "and they knew that when the noise stopped one was coming down." The faith of the family around Sheila held her as a child through those terrifying times and the same faith holds her today.
Sheila's grandparents were devoted Christians, and her mother came to faith as she grew up surrounded by family believers. Some of her cousins are missionaries in New Zealand, and her uncle was a preacher. The families lived fairly near each other, in semi-rural Bearsted, in Kent.
"They were a huge family, with a lot of aunties," says Susan, "Going to church on Sunday, dressed in their Sunday best, was a family occasion. Mum had one best dress, worn on a Sunday, and she had to look after it. She told me how she was especially forbidden to step into a little stream on the way."
Sheila married Ray at the age of 20. When they met, Sheila and Ray had separate jobs, and they decided they would open a pub/ restaurant so they could work together.
"They worked like trojans," said Susan. "They used to cater for weddings and special occasions, and it was so successful they were able to retire in their early fifties. Mum immersed herself again into her church life.

Dad was never a religious man, although he went to church at Christmas time, but he never held Mum back."
Susan remembers her mother always prayed at night, making sure she and her sister Alison also said their prayers. With so many of her relatives now in Heaven, Susan says with great confidence, "I know I'm never frightened of dying; that my faith will get me through."
Sheila and Ray were married for 48 happy years until Ray died aged 72, 22 years ago. "When my father had lung cancer and died, my mum's faith got her through all of that," says Susan. "It was the same when her mum and dad died, and her faith now is stronger than ever."
Sheila came into Shottermill House in November five years ago after having a few falls. One happened during the night and broke her hip, and she was taken into hospital for treatment. With increasing frailty, it was clear that she needed residential care, so while she was in hospital Susan and other family members searched for the best care home for her, looking around a number of them until they came to Shottermill House.
"We knew the minute we walked in that this was the right place," says Susan. "It was the warmth, the and the way staff talked to us. Also the space – it was light, airy, there were flowers and I felt that the staff were Christian.
They had a faith, and it came across. My Aunty Pat said, 'If I have to go and live anywhere, please make sure I go there.'"
In November Sheila will have been at Shottermill House for five years. Despite living with dementia she is happy and loves being with like-minded people. Susan says, "She loves everybody in the home. She joins in everything and loves the services. She has made some close friends, like Gwenda and Norman, and a lady called Alice. She loves the staff, and they love her, too.
"As a family we are incredibly blessed. She still recognises us and talks about our dad and her parents. Their faith has come down through the family. It carried her through the loss of her parents, and her husband. She has dementia but she is so contented."
Find out more about life with us...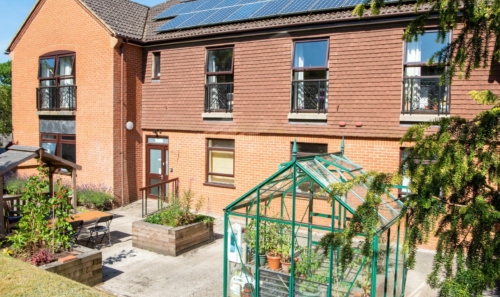 Shottermill House is a 31-bed residential care home in Haslemere, Surrey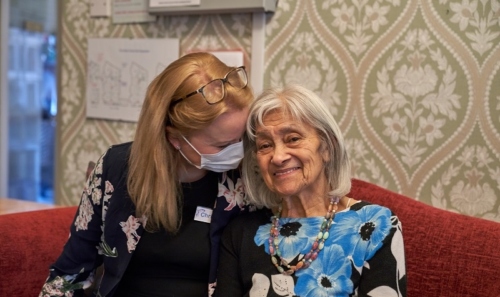 Our unique approach to ensuring that older people have all that they need to flourish in their later years.
Living in our homes means being part of a warm and friendly community.