Tuesday 7th December 2021
The Ministry of Coloured Envelopes
Sarah Finnie is a Church Champion with our sister charity, Faith in Later Life (FiLL). She explains how God inspired her to reach older people during the pandemic
For many Christians, Romans 8:28 offers great assurance: 'And we know that in all things God works for the good for those who love him...' When Sarah Finnie reflects on how the Lord brought together the threads of her life during the pandemic, she has reason to rejoice in just how true this is.
As a small child, she loved nothing more than to sit on her kitchen floor and post envelopes into her own homemade postbox, fashioned from an old cornflakes packet. Many years later when both her parents passed away, Sarah and her brother were clearing out their home and came across a stash of unused coloured envelopes. Like her parents, Sarah decided they were just too good to throw away.
When the lockdown was introduced in March 2020, the Monday Meet – the meeting she led for older people at her church (Enfield Town Community Church) – had to stop. Many of the older people had no access to IT and found themselves cut-off from online services and Zoom meetings. Sarah herself was advised to shield for clinical reasons. And so she had the idea of putting those coloured envelopes to good use...
"The short Bible talk for the Monday Meet was already planned so I thought, 'why not post it out instead?'" she says. In another marker of God's provision, Sarah's nearest postbox is just a few footsteps from her front door. 'The Ministry of Coloured Envelopes' was born.
That first dispatch proved to be the first of many, with the whole church getting involved. Pastors produced a 200-word Bible talk each week. A teenage boy devised wordsearches using words from that week's passage. Church members contributed quizzes. Her husband pitched in with IT. Children wrapped up 'testimonies and tea', comprising a book of testimonies and teabag.
As a child, Sarah herself enjoyed visiting older people at Luff House in Frinton, now part of Pilgrims' Friend Society. However, it was not until 2013 when she was newly retired from her career as a midwife and health visitor that she got involved with her church's ministry to older people. "I asked if there was anything I could do to help," she says. "When I was asked to support the weekly Ladies Fellowship, I was taken aback. It had never occurred to me to work with older people."
However, in the first meeting, Sarah found herself profoundly moved. "Looking around I realised how much I had to learn from these ladies. They really loved the Lord Jesus and knew Him deeply. It was second nature for them to speak of Him in conversation and even pray as they did so."
Over the years, the church's ministry to older people grew. The weekly Monday Meet was established, regularly attended by 70 people, with a special monthly Soup and Sweet attended by 120. Around a third were members of the church, another third were from other churches, and the rest were from the local community. "Many older people are just looking for something to do. We had a real opportunity to share the gospel," says Sarah.

She joined Faith in Later Life's Church Champion network just before lockdown and has found it invaluable.
"One of the main encouragements is knowing that I'm not alone," she says. "The monthly online meetings have been great – to hear from a guest-speaker, such as Louise Morse on the value of older people or Professor Keith Brown on loneliness, and to see a whole screen of faces nodding along."
As the pandemic continued, word of The Ministry of Coloured Envelopes spread far and wide, with Sarah's list growing to some 160 people. At Christmas and Easter Sarah sent Bible-verse postcards she received as a Church Champion from FiLL to her mailing list.
Since September, the Monday Meet has been able to come together again. One of their first activities was a quiz themed around colours. Encouragingly, there are some new faces of older people who had been reached during lockdown. "We'll take it slowly and find our way through the winter months together. For now, it's such a joy just to be together."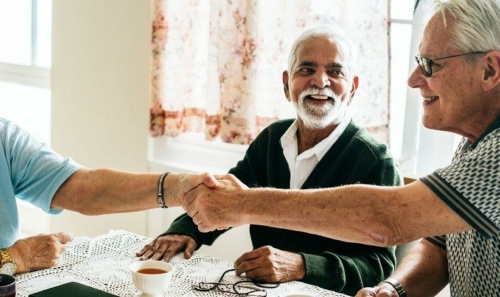 Our sister charity Faith in Later Life exists to inspire and equip Christians to reach, serve and empower older people in every community, through the local church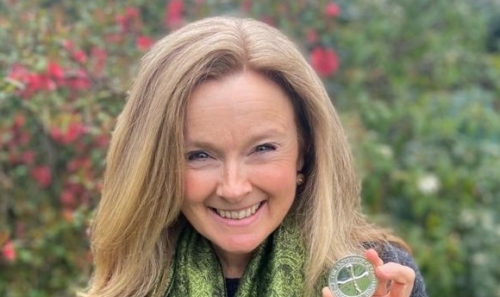 Faith in Later Life Ambassador Pippa Cramer tells how a hymn-based ministry to older people at her church helped to inspire the Daily Hope, the free phone line which has offered spiritual comfort to many during the pandemic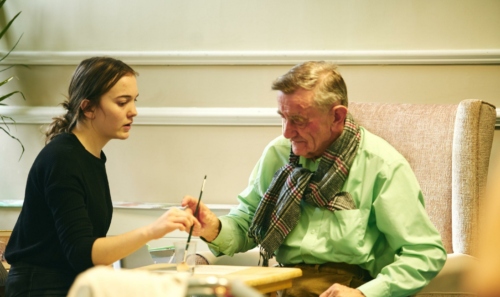 Volunteers play a vital role in supporting the life of our homes. Come and be a friendly face that brightens someone's day.