Friday 3rd September 2021
What does the Bible say about The Way We Care?
Alexandra Davis, Director of Marketing and Communications, takes a look at the biblical principles which underpin Pilgrims' Friend Society's bespoke approach to looking after older people, The Way We Care
Everything we do at Pilgrims' Friend Society is rooted in our Christian faith. Charles Spurgeon, the famous Baptist preacher and an early supporter of the Aged Pilgrims' Friend Society, gave a sermon in September 1856 in which he preached on the importance of remembering the poor. He based his lesson on Galatians 2:10, 'All they asked was that we should continue to remember the poor, the very thing I had been eager to do all along' – Spurgeon then took the opportunity to promote the Society to the listener saying, "Well, now, I beg leave to commend to your attention and notice to-night, the Aged Pilgrims' Friend Society, as being an especially excellent institution, because it will enable you to remember the poor."
Today we continue to look to the Bible to guide us in how we care for older people. The Way We Care is the Pilgrims' Friend Society approach to ensuring that older people have all that they need to flourish in their later years, especially as their physical needs increase. It is an approach which is committed to seeing and valuing the whole person – the history, the experiences, the joys, and the sorrows of life, and to knowing who the important people are who make up the bundle of each person's living.
The Way We Care is based on eight principles, all of which we find in the Bible. Starting in Genesis, we ground our care in the understanding that every person is a physical, mental, emotional, and spiritual being, knowing that we are all made in God's image (Genesis 1:27). We place a special emphasis on helping older people to grow spiritually, and the story of their faith is a vital part of understanding the whole person.
We also believe that we're all made to be in community with one another. In Psalm 68:6 we read that 'God sets the lonely in families…' which means that we live as communities in our homes, and that all those who live in the home are part of a special kind of family. We make sure that we share time together, and that we're committed to supporting one another whether someone is having a good day or a bad day. And we love to celebrate a milestone together – whether that's a birthday, an anniversary, or a staff member getting married or having a baby!
The Way We Care is committed to supporting the unique role that each of us has to play in life. The Bible tells us that 'We are God's handiwork, created in Christ Jesus to do good works, which God prepared in advance for us to do ' (Ephesians 2:10) and places no time limit on this. This approach to care also makes space for all the different skills and abilities that each person brings to the home. Like the picture of the Body of Christ that we see in 1 Corinthians 12, our approach to care makes sure we discover all the different things each person has to offer. For some this is playing the piano for devotions, or creating decorative artwork, and for others it is laying the table at mealtimes, but each is a contribution to life in the home, continuing to grow and flourish in themselves, and inspiring and encouraging others to do the same.
We also believe that building and growing relationships are an important part of life. In Hebrews 10:24-25, we are called to ' consider how we may spur one another on toward love and good deeds, not giving up meeting together…' and The Way We Care approach helps us continue to build and grow relationships even as we grow older. We support and encourage all those who live and work with us to make friends, build relationships, and grow in spurring one another on each day.
The Way We Care affirms the value of every person's voice and is grounded in the principle that every person's opinion about what happens to them is valid. Drawing inspiration from Psalm 71:9 which says, 'Do not cast me away when I am old; do not forsake me when my strength is gone' we work with all those who come and live with us to listen to their needs, hear their voice and care for them as they wish to be cared for. We care in collaboration with each person, supporting them to make good choices which will benefit them every day.
The Bible also reminds us that, 'They will still bear fruit in old age, they will stay fresh and green…' (Psalm 92:14). For us this means that, even in our oldest days, we have the opportunity to flourish regardless of our capability. We know that every day is an opportunity for each person to flourish; their voice and presence is an essential part of life in our home, and we'll make moments each day for them to share with us about their life, loves, passions, and faith.
The Way We Care for people living with dementia
Flourishing in later life can be particularly challenging when it comes to those living with dementia, but the focus of The Way We Care on the putting the whole person at the centre of the care is really helpful for caring for those living with dementia.
We train and equip our staff to understand the unique dementia journeys and to find small but significant ways of drawing each person out. Part of this is through our Hummingbirds whose job it is to spend short amounts of time with those living with dementia, chatting, or singing with them, and using objects from their past to draw the person out for a moment.
Above all, we look to Psalm 139:14 for that famous and wonderful affirmation that we are 'fearfully and wonderfully made!' Every person who lives in our homes is lovingly and uniquely created by God. Older people are of intrinsic value and are precious, and we are committed to seeing the unique and precious person every day.
Find out more about life with us...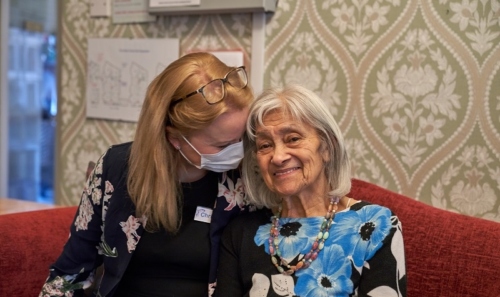 Our unique approach to ensuring that older people have all that they need to flourish in their later years.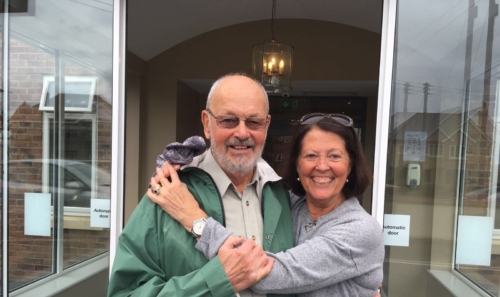 Having worked as a cartographical surveyor and then a youth leader, Roy, now 85, has spent his life helping others find their way. He is now a much-loved member of our community at Luff House, Walton-on-the-Naze