Monday 22nd May 2023
Everyone's a winner
Helen McKay-Ferguson
There's a buzz in the dining the room at Shottermill House. Dice are shaken, tokens tumble, cards are shuffled and dealt. Our family members, as we call those who live with us, are enjoying the company of a group of 10-to-11-year-olds from the local Shottermill Junior School.

The games afternoon has become a regular Friday fixture. "For our students it's such an important experience," says Joy Wilcox, the teacher who is heading up the initiative at the school. "They are gaining so much in terms of how to talk to older people and how to keep a conversation going. It's a wonderful way for them to build links with the local community, and it's precious for them to have the undivided attention of an adult outside home or school."
"It's a wonderful way... to build links with the local community."
For Megan, 11, it's about making a difference. "I just love making sure that they're all having fun and getting to enjoy themselves," she says as she piles up wooden discs ready for David to take his turn on Sjoelbak, a Dutch shuffleboard game taking place over in the lounge.

For our family members, it's a precious time too. Doreen, 88, a former children's nurse, is in her element, making Edward, 11, and Dyako, 10, giggle during a game of Guess Who? "She asked 'does your person have two eyes?'" says Dyako. Over at the far table, Hilary, 80, and a former primary school teacher, interrupts the game of UNO to say that Fern, 11, and Tilly, 10, are an absolute credit to their school and could a message be sent to the head to say so

According to Deborah, our Activities & Community Engagement (ACE) Facilitator at Shottermill House, our family members look forward to the visit all week long. "Many have had an association with children all their life and so it's a real joy for them, especially after the COVID pandemic when so many older and younger people were kept apart."
The partnership came about when Deborah got in touch with the school. Like all our ACE Facilitators, Deborah actively builds links with the local community with a view to enriching life for our family members.

An important part of the partnership is helping children understand more about dementia. Before the first visit, Deborah goes to the school to explain to the children what dementia is, how it can affect people, and how the children can respond.

"It's about breaking down the fear barrier," says Deborah. "The likelihood is they will meet people with dementia in the course of their life, perhaps it will affect a member of their family, and so it's important for them to start to understand."
Deborah tells them about the GEMS model of dementia care, which we follow as part of our The Way We Care approach. "I say each person is still this beautiful, shiny person but that sometimes there are bits missing, like the flaws in a diamond, and it's about finding ways to connect with them.

"I talk about treating the people they meet as an adult with a fully functioning brain, even though their brain is not working as it should, and that they should talk to them with respect as they would any other adult, such as their mum or grandparent."
Deborah also explores the things the children might hear, see or smell. "We discuss what to do if an unexpected smell happens. Children ask things like, 'Do we have to clean them up?' I tell them 'absolutely not', you are here as our guests, we are with you all the way and you will have no responsibility. You are here to enjoy yourselves with the family members."

Building relationships is at the heart of the visit, with board games providing a natural way to connect. For children, being able to teach an adult a board game is empowering and might not be something they've had the chance to do before. Older family members have the pleasure of passing on the knowledge of how to play a traditional game such as dominoes or snap.

On the day I visit, Derek and Annushka, 11, sit opposite each other over a game of chess. Annushka is just learning and so Derek throws in a few deliberate mistakes for her to spot. "It's difficult, you've got to think really hard each time you make a move," she says.
This is the second group to visit from Shottermill Junior School. During the previous half-term, Deborah saw how relationships developed as the weeks went by. "There was one boy called Patrick who really enjoyed playing chess with Derek and told everyone 'I've made a new friend.'" Derek recalls how on the last week Patrick and his friends were disappointed they would miss their last chance to play chess with him as he was going to an appointment.

Struck by children's enthusiasm, Derek felt moved to make a donation towards the school's chess club meaning some new, good quality sets could be bought. "My wife and I don't have children or grandchildren and so it's nice for us to be able to give this gift," he says.

The fun doesn't just stop with board games. Sonia, 11, who is a keen artist, asked if she could make portraits of two ladies living with us, Hazel and Hazel, with impressive results.
The positive impact of the visits has been far-reaching. "Our staff have seen how much the family members have enjoyed seeing the children and have started to bring in their own children more, which has been lovely," says Deborah.

Staff have also noticed that instead of napping after lunch, family members stay awake specially and are stimulated, which in turn means they have a better night's sleep.

From a personal perspective, Joy can see what an impact these visits can make. "My grandma is in a care home in another part of the country. As a relative, you may be at work during the week or live far away and find it difficult to visit. I think that knowing a school is coming in would bring real comfort. And it's nice for your relative to have some news of their own to share. Conversation can run really dry if you're just talking about the weather."

Joy hopes that by bringing company to older people, the children will also be learning social skills that will stay with them through life. "Loneliness can affect you at any age after all. One of the best ways to stop yourself feeling lonely is to reach out to someone else."
Find out more about life with us...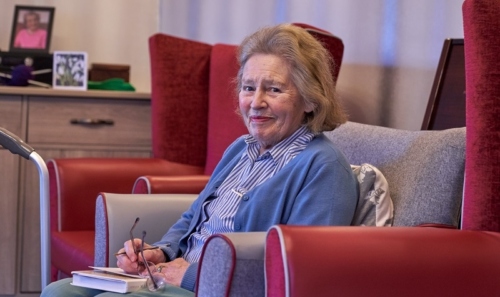 Christine, 83, lives at Emmaus House in Harrogate. We chatted to her about her experience of working for the BBC Radio Manchester in the 50s and 60s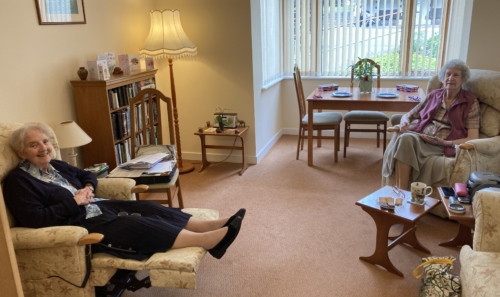 How Joyce and Hazel at Royd Court in Mirfield have been harnessing the power of community through their displays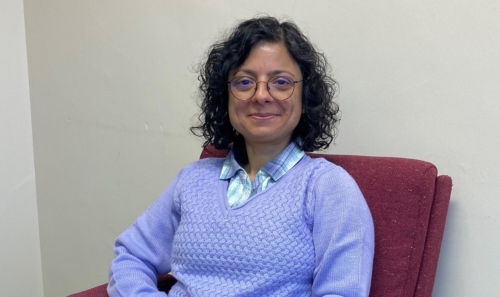 Nasim has been part of our HR team since 2018. She comes from an Iranian background and tells us how she came to meet Jesus and to work with us