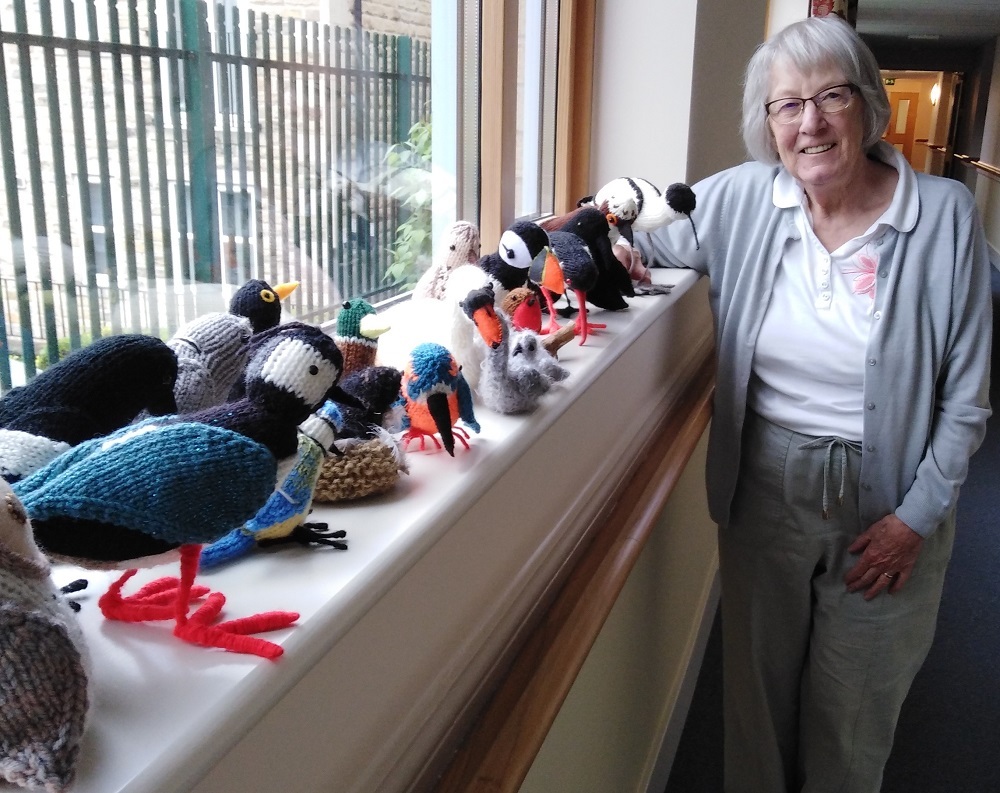 Thursday 18th June 2020
Feathered friends
How Rosemary Eccles' knitted birds are delighting the community at Royd Court
A serene swan and her two fuzzy cygnets, a beady-eyed blackbird fledgling peeping out of a nest, a moon-faced owl with a plump, spotted tummy. These are just some of the delightful knitted creations to adorn the shelf and window ledge outside the home of Rosemary Eccles, who lives at Royd Court, our independent living housing scheme in Mirfield, West Yorkshire.

"People love seeing if they can spot which bird is the latest to appear," says Rosemary, "It's a real talking point. Even some of the quieter members of our community will stop and ask me about them."

Rosemary, a bird enthusiast and a keen knitter, first started making the birds after she received an RSPB Knitted Birds calendar for 2019 as Christmas present. She enjoyed making them so much that next Christmas received the 2020 edition.

"It's fun to make a new bird each month, especially during lockdown when we've had to spend so much time at home," says Rosemary. "Each one is charming in its own way and presents a slightly different challenge. Some need to be weighted down inside with glass beads to get them to stand up properly, others need pipe-cleaners to stiffen their necks. I had an awful job getting the eyes right. At first, I used felt but they kept falling off. Eventually, I found some bead eyes for toys on the internet."

Rosemary is no stranger to ambitious knitting projects. In South Shields, where she used to live before moving to Royd Court, she was part of a knitting group, and contributed to the making of 'a knitted taxi' – a black London cab clad in a colourful 'taxi tea cosy' – to tie in with the launch of a children's book. "At one point, I'm not quite sure how, that taxi ended up parked in my driveway," she says.
Describing herself as 'a bit of a hoarder', Rosemary was in the fortunate position of having lots of wool stashed away when lockdown came and so was not short of wool supplies. For the blackbird's nest featured in April, however, she had to think creatively to source her materials.
"The nest is knitted with brown string. I had some from a bouquet of flowers from our local florist which was just the right colour, but I didn't have very much. I rang the florist to ask if they had any spare and they kindly sent some over," says Rosemary. "The feathers I found in the Royd Court quadrangle – I went out looking every day – and I collected lots of little leaves and twigs. I'm really chuffed with how it turned out."
Rosemary suffers from Parkinson's and finds the physical action of knitting a support. "Parkinson's affects the use of the muscles, things become slower and harder work. But knitting helps as it means you are using the muscles regularly."

Out of her creations, does Rosemary have a favourite? "I do like the avocet. That's the symbol of the RSPB, of which I'm a member. His thin legs and beak were quite a good challenge," she says.
Waiting in the wings for July is a handsome hoopoe, and for August there are two herring gulls, one replete with a chip in his beak. "They look fun to make, and remind me of the seagulls I used to see roosting on the chimneys when I lived in South Shields," says Rosemary. "They are also designed to be hung from the ceiling. I'm wondering if that'll be possible… It's true that I'm running out of room on the window sill."

Those living at Royd Court can, quite literally, watch this space. And the rest of us can keep up via the Royd Court Facebook page, where manager Vicki Miller posts up pictures of the latest additions.

Find out how another member of the Royd Court community has found it the perfect place to pursue his passions here