Wednesday 15th November 2023
"God kept us safe:" Second World War memories from an almost-evacuated child
Pam, 93, lives at Shottermill House in Haslemere. For Remembrance Day, she shared her story of how God protected her and her brother during the Second World War
I was a young girl during the Second World War, but I remember it quite vividly – how could you not? So much changed for my family and everyone else. We certainly learned to trust that God was keeping us safe, a lesson that I have continued to remind myself of my whole life.
My father had a reserved occupation role as Chief Electrical Engineer – and was responsible for the electrical supply from Portsmouth to Guildford. It meant that he stayed at home for the duration of the war. I remember going to church with my father during the war, as he was the organist and choir master. At that time because of the blackouts, our evensong had to be held in the afternoon and not the evening.
We often saw fighter planes flying overhead and rationing became difficult. My parents received a letter from an aunt that had recently emigrated to America – she asked if they had considered sending us children across the ocean as evacuees to stay with her as the war progressed at home.
It was a difficult decision, but my parents decided it would be safer to send us to America than to stay in the UK. They told us of big boats that would cross the Atlantic with lots of children just like us. As the oldest, at 10 years old, I felt a big responsibility to keep my younger brother and sister safe on the journey as I listened to my parents discuss behind closed doors. The boat would first sail to Canada, and then we'd have to travel to Pennsylvania in America to meet my aunt.

As we made preparations to go, my brother, Henry who we always called David, became ill. We thought it might be nerves, but when we had each the required medical examination at the docks before boarding the boat, the doctors found that David had the measles! We couldn't get on the boat after all.
My entire family returned home and I could sense my parents were worried about keeping us safe. They thought we might need to try again to get us to America. We went back to our routine and went to church every Sunday. One day, in amongst all of the terrible war updates in the papers and over the radio, we heard the startling news – the ship we were supposed to be on, carrying other children across the Atlantic, had been torpedoed – at the moment there were no known survivors.
"...the ship we were supposed to be on, carrying other children across the Atlantic, had been torpedoed..."
Pam, Shottermill House
The tragic news struck us all into silence. It was hard to imagine that it might have been my parents hearing this news all alone, without us children clustered around them. We felt instantly grateful to God, who had no doubt protected us. Whenever I need a reminder that God has me in His hand and is keeping me safe, I remember this moment.
The sinking of the ship was also talked about in America and my aunt, thinking that we might have been on board, was extremely upset and distressed. When my parents were able to get in touch with her and let her know that we were safe at home, the relief felt on both sides of the Atlantic was huge.
The war continued and it wasn't easy – we dug a ditch in the back garden so we had somewhere to go if bombing started – but with the constant planes overhead we were never sure when we'd need to run for cover. I remember lining up for food with my mum and we would sometimes get broken biscuits as they weren't rationed, but you would have to talk nicely to the shop keeper.
There were queues of ambulances outside a nearby wartime hospital and our school had lots of evacuee children attending with us – we didn't have near enough pencils and paper for us all.
The end of the war was a big celebration! We had the day off school and we celebrated with a big party on the village green where we played lots of games as well as shared food. It was lovely and we also had a light parade with lots of torches which was amazing.
I remember people coming back from the war and I was glad to hear that the children that had been evacuated to America safely made it back safely as well. Life didn't get easier straight away, but I knew that even when it did, I wouldn't forget the example of God's protection of my family – and I still haven't, 83 years later, surrounded by a community in my care home who also remember the war as children. Most of our families had a story or two of how God protected us, and how He has continued to look after us our whole lives.
Pam's story was covered by two Christian radio stations, UBC and TWR. In the photo she below she is being interviewed by one of the radio stations via Zoom, supported by our Hummingbird Jo.
More great stories from Pilgrims' Friend Society...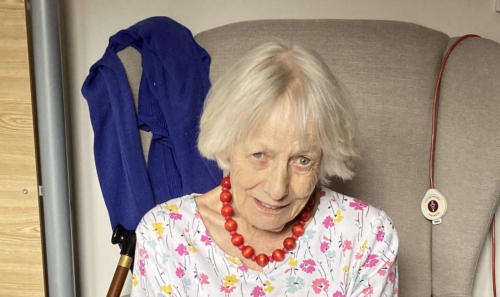 Diana, 92, lives at Finborough Court in Great Finborough. Her lifelong passion for poetry and song has led her to create a very special anthology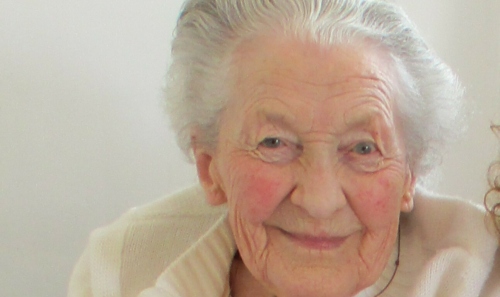 As the Autumn term rolls around again those living in our homes share memories of their own school days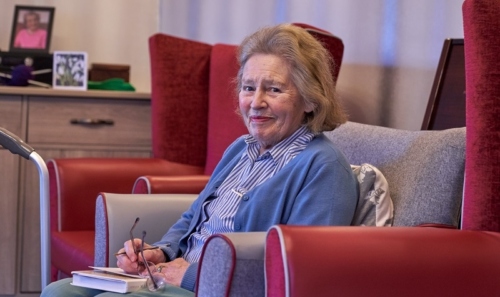 Christine, 83, lives at Emmaus House in Harrogate. We chatted to her about her experience of working for the BBC Radio Manchester in the 50s and 60s