Thursday 9th December 2021
Going into 2022 with purpose
Louise Morse
What has God planned for you to do in the New Year? One of the effects of Darwin's theory of evolution is that if we all evolved by chance then we are not here on purpose, and that as a result, we don't have a purpose. So people find meaning and purpose for their lives in many different ways – in their work, in their hobbies, in their families, and other things. It all helps until circumstances change… But the fact is that God designed human beings to live within His individual plans and purpose. Even before we were born, He planned our lives and equipped us, each one of us, with personalities and talents to be able to do the 'good works' He has planned for us.
It's relaxing to know that we don't have to strive or look for opportunities for being useful. Ephesians 2:10 tells us that we are 'God's handiwork, created in Christ Jesus to do good works, which God prepared in advance for us to do.' (NIV) If God has prepared our 'good works' in advance, He will bring them to us. We don't have to go looking for them, and puzzle about what we should be doing.
Sometimes we need to change our understanding of what it means to be useful. We need to realise that we impact lives by how we are, as much as what we do.
One of my favourite stories illustrating this is about how the lives of two young medical students were changed by an 84-year-old woman they were visiting as part of a volunteering programme. Mrs B was living alone in sheltered housing, and was dying of cancer. She always made them welcome, and sent them away with bags of home-made goodies. Her attitude to life, and to dying, influenced the students' choice of career. One became an old age psychiatrist (and writer, hence the story) and the other became a community doctor working with older people.
You may think that a frail, elderly resident in a care home has outlived his or her usefulness. But that's not the case at all. Our carers will tell you of times when a resident has changed the course of their day with a listening ear and encouragement. When there's been an early miscarriage, for example, one will listen with deep sympathy. Or if carers are rushed, someone will say how much they appreciate what they are doing: hundreds of little touches that change the atmosphere in the home and strengthen the carers.
An example of a 'good work' that God has planned is a story from the Zoom meeting last month on 'Developing Usefulness in Old Age'. Once a month I hold a Zoom meeting on a different topic. The aim is for participants to learn something new and to bring their questions on the topic being discussed. One of the participants last month said that recently she's been able to help a frail older neighbour who until five months ago was living well and independently. The neighbour really loves her dog, and Gillian is able to help by taking him for walks. She's also helped by washing her neighbour's hair, doing her shopping, and inviting her over for an occasional meal. I don't think Gillian had anticipated doing this 'good work' for her neighbour, but God plans in detail.
So, for the coming year, for 2022 and all it holds, we can be sure that whatever circumstances we find ourselves in God has a purpose for us. Our best purpose of all is summed up by the Westminster Confession which says that 'the chief end of man is to glorify God and enjoy Him for ever.' That's a purpose we can all aim for!
More from Pilgrims' Friend Society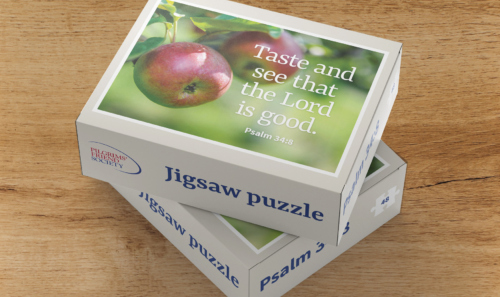 Get 2 brilliant jigsaws for the bargain price of £20!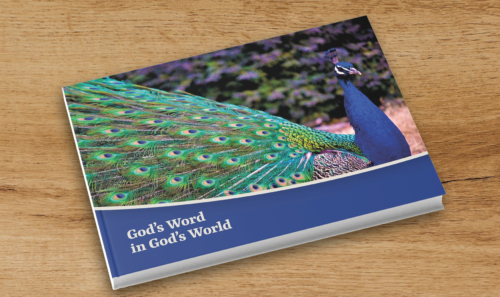 A collection of Bible verses with photos from nature to encourage people in their walk with God, designed with older people in mind.