Tuesday 17th January 2023
Meet a Hummingbird, Sonya at Luff House
When former teacher Sonya, now 61, saw the role of Hummingbird at Luff House advertised online, she was moved to tears and couldn't sleep until she had applied
At Pilgrims' Friend Society, we invite people to discover a rewarding role in the care sector at any stage of life. Our Hummingbirds are dedicated to connecting with those living with dementia, supporting all aspects of their life, including spiritually.
Sonya says:

"One evening I was scrolling through job adverts and came across the role of Hummingbird at Luff House (Pilgrims' Friend Society's home in Walton-on-the-Naze). It touched my heart. I thought 'that sounds beautiful' and I honestly cried. I went to bed but I couldn't sleep. At 3am I had to get up and write the application.

"As a Hummingbird my role is to support our 'family members' (as we call those who live with us) who are living with dementia. I make sure I get to know our family members really well as the better I know them the better I can support them. A Hummingbird flits around the home having short, meaningful connections with people, helping them to engage.

"There's a saying: people won't always remember what you say, but they will remember how you made them feel. I think that's all the more true for those living with dementia.

"My grandmother had dementia and I'm passionate about people living a full life and having the best quality of life they can at all stages.

"Because I'm working in a Christian home, the connection with family members is extra special. I'm connecting with people on a spiritual level. At Pilgrims' Friend Society, we follow something called the GEMs model as part of our The Way We Care approach. Through GEMs, people are valued as precious jewels, it's a beautiful way of looking at people, seeing their soul within them.

"One of the later stages of dementia under the GEMs model is 'pearl'. It can appear as if the person is hidden in a shell. They are generally immobile and not really able to communicate verbally. As a Hummingbird, I do my best to find a way through to the person and when that shell comes open and you see the beauty of that soul inside, that pearl shines and it just melts your heart.
"There was one gentleman, a Reverend, who I loved to bits. He was so funny. We used to recite nursery rhymes together, things like Jack and Jill or The Grand Old Duke of York. There was something about the rhythm that struck a chord with him. He joined in with gusto.

"Over the years I've sat with many people through their last moments. I'll sit and read the Bible with them and pray with them and their family. For those who are fearful, I give reassurance. I hold that space for them. I wouldn't want anyone to be alone at that time.

"I've always called myself a Christian but going to a Billy Graham event in the 1980s was pivotal for me. From that time on, I decided I wanted to whole-heartedly serve the Lord.

"I feel like all these years later being a Hummingbird is part of God's plan."

Find out more about Pilgrims' Friend Society's uniquely Christian approach to care, The Way We Care.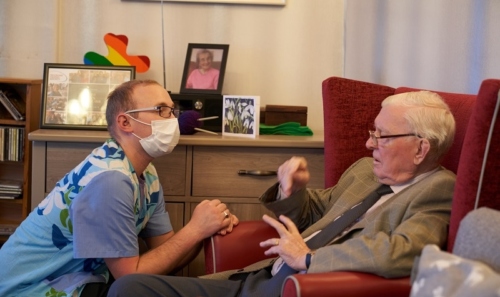 The Way We Care
Our unique approach to ensuring that older people have all that they need to flourish in their later years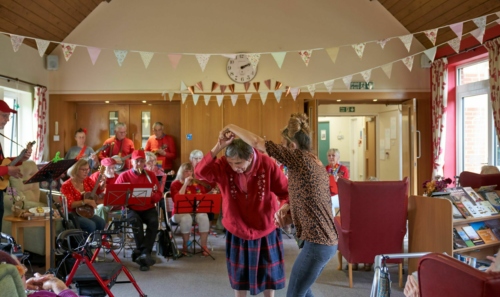 Dementia care
We support those living with dementia to live a happy and fulfilled life.
Family life
Living in our homes means being part of a warm and friendly community.