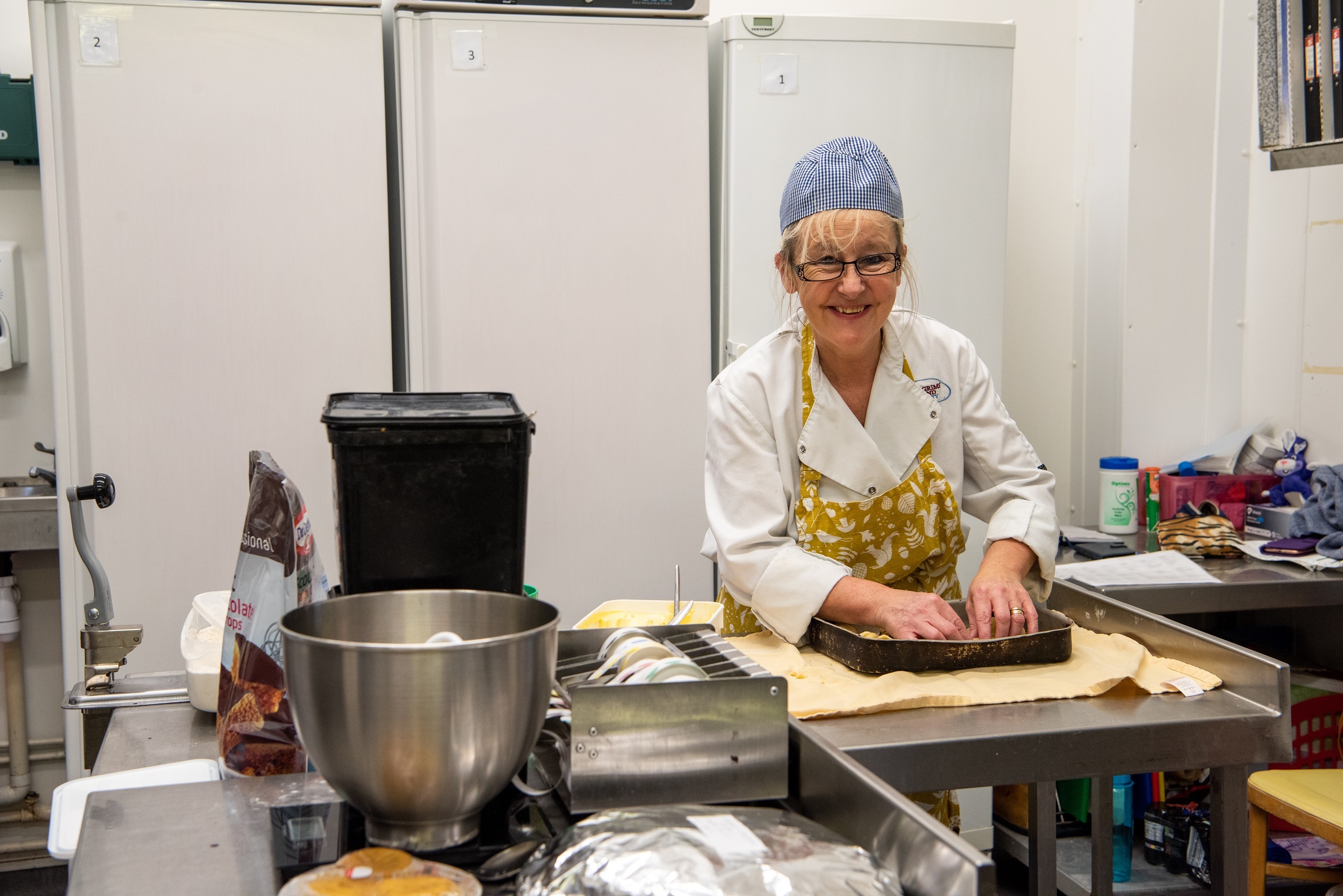 Tuesday 9th November 2021
Meet Catering Manager Hayley, Framland
Hayley loves her role managing a busy kitchen at Framland, our home in Wantage. We caught up with her to find out more

I've been here for four years. I love being in charge of my own space and I love to be busy. I start at 7.30am and don't stop until I finish at 2pm.
I think I get my kitchen skills from my grandparents. My granddad ran his own bakery in Faringdon, Oxfordshire, and my nan was the head cook at a local primary school.
I've always loved managing roles. For many years I worked as a manager at a toy company in Abingdon. After that I ran my own cleaning business.
I started here as a kitchen assistant and after four months I became Catering Manager. I've always enjoyed cooking and I've learnt lots of new skills on the job. I've also achieved my Level 3 Certificate in Food Hygiene.
To do this role you need to be very calm, and of course you need to be able to cook properly. Attention to detail is very important. My own son has a nut allergy and so I'm very wary when preparing food.
I really enjoy working with older people. I always have done, I think because I was close to my grandparents. I have a lot of respect for older people.
At Framland we have different menus for spring, summer, autumn and winter. I ask our family members for their suggestions for the menus. Old-fashioned dishes are very popular – everyone loves a roast dinner. Some modern dishes also go down very well – particularly honey and mustard chicken and sweet and sour chicken. They also like a very mild curry. Basically, anything with a sweet sauce.
For lunch each day we always offer two choices. There's a hot meal and then either salad or soup. And we always accommodate dietary needs. Teatime is sandwiches and cakes. Then there's all the staff sandwiches to make.
For birthdays I'll bake a special cake for the birthday person. I've taught myself to bake and decorate celebration cakes and animals are my speciality. So far we've had a pig, a duck, a penguin... Our family members love them, and I love to see their faces light up. The birthday person always gets to pick the flavour – vanilla, chocolate and peppermint, Aero, coffee, lemon, strawberry. I can do pretty much anything...
There's one lady, Myrtle, who I've got to know well. She used to be a cook herself and so we have a lot in common. She used to come up to the hatch and tell me what to do and we'd have a laugh together.
Everyone at Framland is very friendly. I love being around people and I love to laugh and joke.
When I'm not at work, I like to go on long walks in the country. I also love reading. I don't cook so much for my family at home anymore. That's my day job! In fact, at home, my husband and son have taken on the cooking now.
Christmas is always a busy time in the Framland kitchen. I'm on holiday on Christmas Day this year, but I've planned everything out. There'll be a traditional Christmas dinner with all the trimmings. I'll be making a homemade Christmas pudding ahead of the big day, and there'll be trifle as well. In the evening we do a buffet supper.
We always make a Christmas cake too. This year, I'm going to try something new and make one in the shape of a Christmas tree. I've just got all the nozzles and have been teaching myself how to do the piping. I love to try a new baking challenge!
Could you join the catering team at one of our homes? For all our latest vacancies, see our jobs page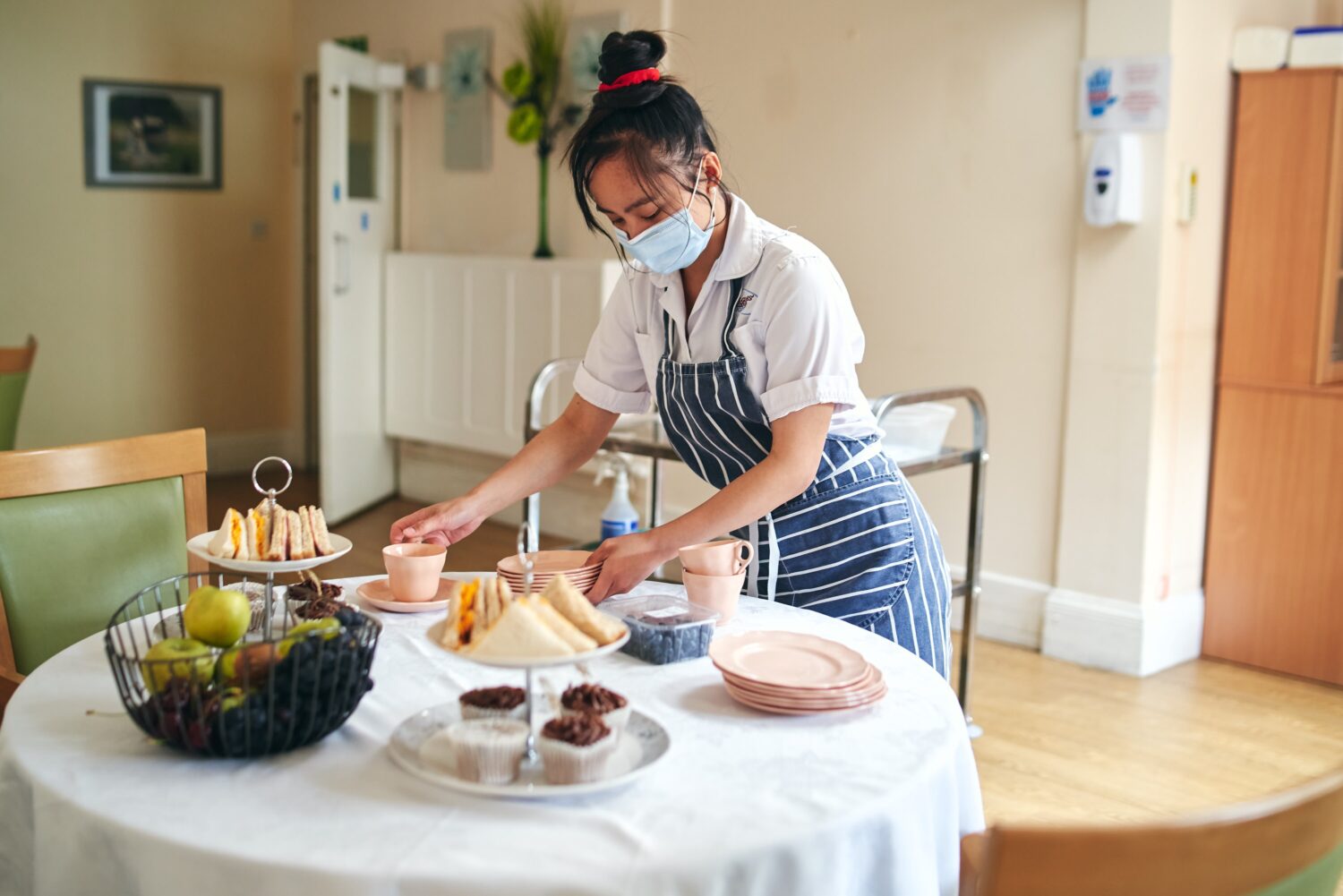 Come and work with us
Whether in one of our homes or schemes, or as part of our support teams, working for Pilgrims' Friend Society means becoming part of a big family supporting older people to live fulfilled later lives.
Find out more about working with us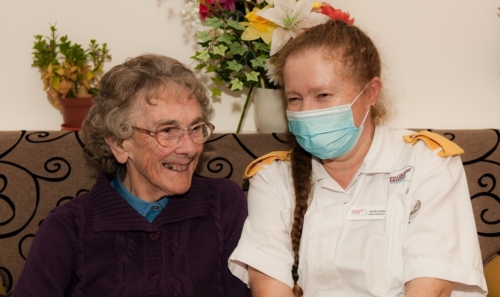 Rosie Eames is a Carer at Shottermill House, Haslemere. We found out about a typical day in her life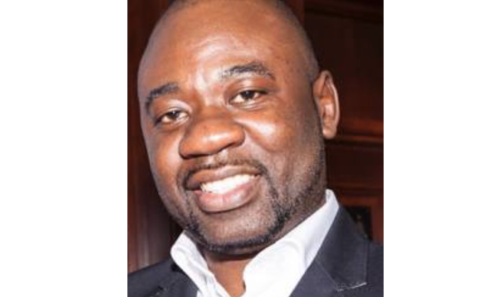 Timothy Agbenike has recently joined our team as Registered Manager at Luff House, Walton-on-the-Naze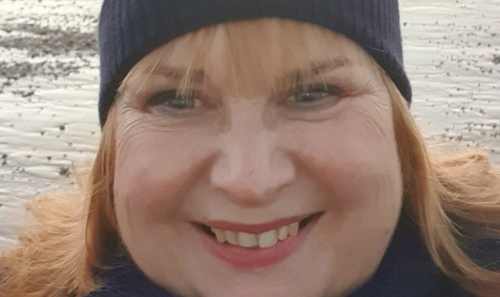 Jane Trimarco is one of our Operations Managers, supporting several housing and care schemes. We found out about a typical day in her life