Friday 2nd June 2023
Meet a volunteer... Meg at Middlefields House
Meg, 18, has been volunteering at Middlefields House, Chippenham, since October 2022. She tells us why it's a highlight of her week
My career goal is to be a midwife. For this, you need care = experience of some kind and so I contacted care homes in my local area to find out about volunteering opportunities.
Middlefields House was the best. The team got back to me straight away. They seemed really interested in my being there. As an introduction, Gaie Marshall, the Pastoral Care Lead at the home, took me on a tour. Everyone seemed really friendly and said 'hello'.
The first couple of times, I stuck with a more experienced volunteer, Gemma.
She helped me settle in.

I didn't choose Middlefields House because it is a Christian home. I do have a lot of Christian friends and I find it interesting talking to the family members about their lives.


Middlefields House is split into four households. Household 2, where there are people with more advanced dementia, has become the household where I spend most of my time. It's easier to get to know one smaller community.
I'd never known anyone with dementia before. As a volunteer, I've had the opportunity to learn about dementia, including about the GEMS model where people are seen as being 'precious jewels' at different stages of the illness.
One thing I've come to appreciate is how dementia affects people differently. Some people can be comforted by having someone sit close to them and hold their hand, other people need space.
There's a lady called Judy who I've spent a lot of time with. She is very chatty and loves to tell me all about her family. One of the first things we did together is go through all the photos on her bedside table.
Judy also really loves nature. She's lived in Ecuador and worked at an environmental sanctuary. She tells me about different birds and animals. She's also very good at languages. I love chatting and like to hear about all her interests.


I'd say my favourite part of the household is people's individual rooms. Everyone has got a colourful name sign on their door. Each room is personalised with decorations and special objects. Judy's room is filled with flowers. One gentleman has a piano in his. I like that when you walk down the corridor you can instantly tell whose room is whose.
People's rooms are also where I have the best chats. It's someone's own space where they feel really comfortable and open up the most. I find I can have really good quality one-to-one chats.
It's nice that the family members are interested in my life too. For my A-Levels I'm studying Art, Dance and Criminology so I'll tell them about that. In September, I'll be going to do a gap year internship in midwifery in Sri Lanka and they like to hear about that, especially Judy as she loves travel. I love how all the family members have been my age at some point. They've been through every moment in life, that's what I find cool. They can share their experiences on how it was for them.
As a volunteer, I've been able to share some of my skills in art. For example, when they were doing watercolour painting I could give them some tips.
When I visit the home, I don't have my phone with me. It means I'm spending really focused time with the family members. It's a complete break from all the pressures of modern life.
I always feel very fresh when I come away from visiting. I bombard my friends with stories about what I've been up to. There's always something to tell them about.
In her spare time Meg...
• Likes listening to retro music from the 60s to the 90s
• Is teaching herself to crochet
• Is exploring children's illustration, taking inspiration from Beatrix Potter
Volunteers' Week 1st-7th June
Volunteers' Week is an ideal time to chat to organisations you're interested in and find out more about their volunteering opportunities. If you don't live close enough to our homes to volunteer with us, perhaps there's another organisation working with older people that you could connect with.
To find out more visit www.volunteersweek.org


More about volunteering with Pilgrims' Friend Society...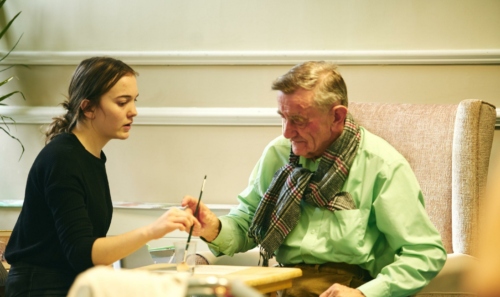 Volunteer
Volunteers play a vital role in supporting the life of our homes. Come and be a friendly face and brighten someone's day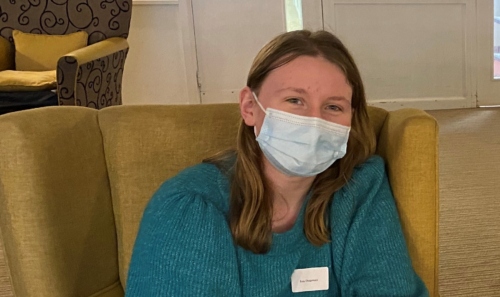 Meet the volunteer... Evie at Shottermill House
Sixth form student Evie is a volunteer at Shottermill House in Haslemere. She told us how spending time with older people has helped inspire her to pursue a career in medicine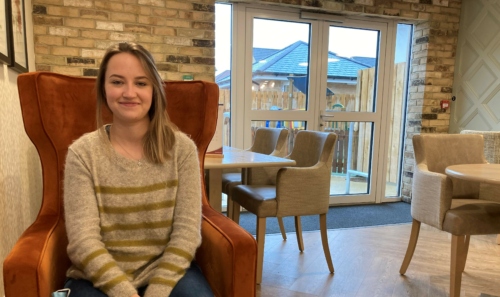 Meet the volunteer... Gemma at Middlefields House
Gemma volunteers at Middlefields House, Chippenham. She explains why she has a heart for older people and loves visiting the home